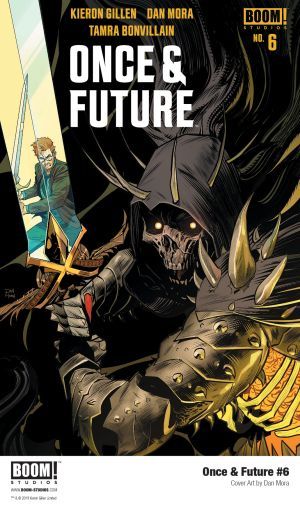 ONCE & FUTURE #6 PREVIEW
BOOM! Studios has shared an early preview of Once & Future #6 set to debut later this month. The comic, written by Kieron Gillen, illustrated by Dan Mora, colored by Tamra Bonvillain, and lettered by Ed Dukeshire, follows Bridgette McGuire, a retired monster hunter as she works with her unsuspecting grandson Duncan to fight against a rising evil planning to take over their country and bring it back to its former glory.
With the fate of the world in the balance, Duncan must finally accept his role in the larger story. But has Gran trained him well enough to defeat the undead King of the Britons by himself?
Once & Future #6 features a main cover by Dan Mora. It's set for release on January 22nd, 2020.
Want to share some news? Click here to hit us with it!