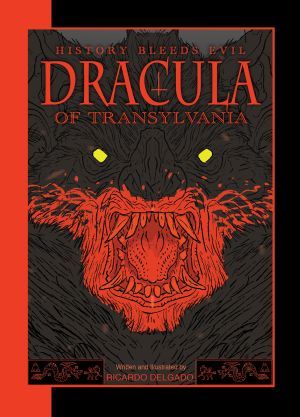 RICARDO DELGADO HITS KICKSTARTER FOR DRACULA OF TRANSYLVANIA
Ricardo Delgado has taken his designing talents from Hollywood to Kickstarter for Dracula of Transylvania, a new illustrated novel of Bram Stoker's classic tale. Set for release from Clover Press, the book is currently on Kickstarter. It features over 20 illustrations by Delgado and an introduction by Donald F. Glut.
"Dracula of Transylvania supports and builds upon Stoker's classic, haunting original story, but this is most certainly not your parents' Dracula or your grandparents' Dracula," says Delgado. "This personification of the Nosferatu king is dark and powerful, a malevolent antagonist who suffers no fools, accepts no failure and crushes anyone in his path. This Dracula is not a romantic. He's a complete horror. Just the way I always wanted him to be."
In Dracula of Transylvania, the year is 1899. Young Solicitor Jonathan Harker braves ghosts, demons, living skeletons, and armies of rats—all of which pale in comparison to his encounters with Dracula of Transylvania, the Son of Satan. The demonic, shapeshifting vampire imposes his wrath, malice and vengeance upon an England about to enter the Modern Era.

"Dracula is vileness incarnate, a pure thing of Hell," says Delgado. "He's spent the past thousand years putting sword to flesh and tearing at the tapestry of history as the son of Satan himself. Kings, Popes and armies fear Dracula. And so should you."
Dracula of Transylvania is peppered with historical facts from the ancient to the modern world that brings texture to this haunting adventure. It features everything from murder among English tombstones and daring chases through the infamous underground Paris Ossuaries to a gladitoral battle within Rome's Collosseum during the Witching Hour and a chase through Europe to Castle Dracula.

Rewards for the Kickstarter campaign for Dracula of Transylvania include digital and physical copies of the book itself, prints, original art, and more. The campaign has already raised more than 4x its funding goal and is scheduled to wrap up on March 25th, 2021.
Want to share some news? Click here to hit us with it!