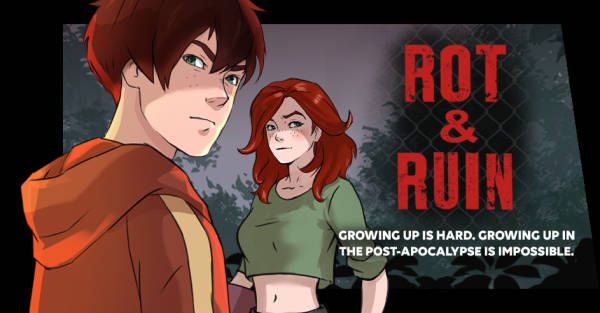 ROT & RUIN LAUNCHES ON WEBTOON
Jonathan Maberry's zombie-filled post-apocalyptic novel Rot & Ruin has been adapted into a comic book (again). This time, it's on Webtoon, the free digital comics platform. Written by Taylor Grant and illustrated by Alina Popovici, the series updates every Monday and launched with an additional three episodes available through Fast Pass, Webtoon's in-app coin purchasing program.
Rot & Ruin is a coming-of-age story set during a zombie-infested, post-apocalyptic America where every teenager is forced to get a job by the time they turn fifteen. For Benny Imura, that job is the last one he ever wanted—to apprentice as a zombie hunter for his overbearing older brother Tom. However, on his journey through the post-apocalyptic wasteland, Benny discovers that zombies are not always the greatest thing to fear, and ultimately, what it truly means to be human.
"As a long-time fan of both Jonathan Maberry and the Rot & Ruin series, I am truly honored to help bring this thought-provoking and wonderfully imaginative post-apocalyptic story to life as a web comic series," said Taylor Grant, SVP IP Development. "It is yet another example of Webtoon's commitment to telling increasingly sophisticated stories that will continue to broaden our reach."
Want to share some news? Click here to hit us with it!