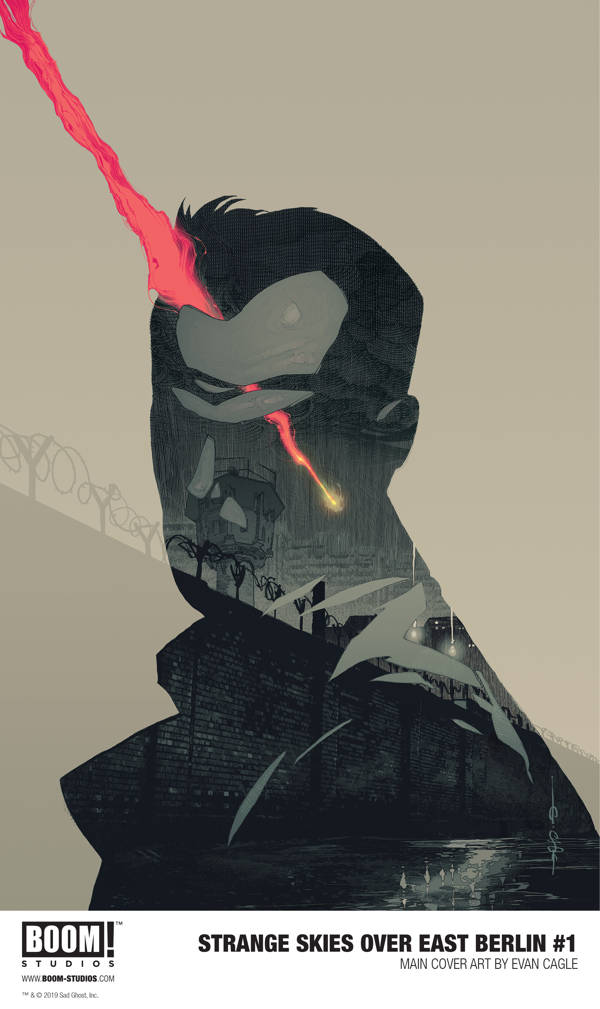 Click image to enlarge.
SDCC 2019: ALIENS INVADE DURING THE COLD WAR IN STRANGE SKIES OVER EAST BERLIN
San Diego Comic-Con hasn't even started yet and we're already neck deep in press releases and all kind of news. BOOM! Studios! has announced Strange Skies Over East Berlin, a new four-issue limited series from writer Jeff Loveness and artist Lisandro Estherren, debuting in October. The comic is a thriller following an American spy who encounters an inhuman threat at the heart of the Cold War.
It's 1973, and Herring, a disillusioned American spy, has spent the entire Cold War infiltrating the inner circles of East German intelligence for a cause he barely believes in anymore. He's seen everything and done anything his government asked but his latest mission pits the brilliant embittered operative against an enemy force so vast it could obliterate all of humanity.
The Space Race had greater consequences than even the Soviets could have guessed, and when they sent the first human ever to the stars, something not quite human followed them back. When a mysterious alien probe lands outside East Berlin and into Soviet control, the Americans send their top spy in to investigate. But as Herring gets ever closer to the truth at the heart of the conspiracy, he may find that the power he so desperately seeks is too dangerous for anyone to control or contain.
"Through comics, I've been able to write space operas, dark religious epics, and superhero stories, and now I can't wait to write a sci-fi horror set within the bleak, creeping dread of the Cold War," said writer, Jeff Loveness. "The Iron Curtain surveillance state of East Germany is now far enough removed from us to seem shockingly familiar. It's been humbling to research that world, only to see how many sad parallels of it we still endure today. There's body-horror and sci-fi creeping through the paranoia of the story, but it's also about what it means to be American in a world slipping away from you... a world that was perhaps never truly there to begin with."
"I'm thrilled to work with Jeff on a story that mixes different genres so well, that has this deep human touch, and also lets me try some new graphic techniques," said artist, Lisandro Estherren. "I think readers will love it!"
"Judas and The Last Contract are two books that are very near and dear to me, so I was thrilled by the prospect of Jeff & Lisandro joining forces for Strange Skies Over East Berlin," said Eric Harburn, Senior Editor, BOOM! Studios. "This series is yet another raising of the bar -- if you haven't read a Loveness or Estherren book yet, then this is your chance to find out why this is one of our most exciting launches of the year."
Strange Skies Over East Berlin #1 will feature a cover by Evan Cagle. It's set for release on October 2nd, 2019.
Click image to enlarge
Want to share some news? Click here to hit us with it!