SECRET MOVIE CLUB REVEALS FESTIVAL OF HORROR PROGRAMMING
What are you doing this weekend? If you're in the Los Angeles area, I've got your plans covered. Secret Movie Club has unveils its Festival of Horror programming and it's packed to the brim with all kinds of awesome stuff. The Festival will run through the month of October, ending on November 2nd. Films include everything from classics like a Frankenstein / Bride of Frankenstein Universal Studios double feature to the contemporary like The Witch to the obscure, like two films produced by Val Lewton for RKO Studios. There's even a Twilight Zone marathon! You're going to want to clear out your schedule for the next few weekends because you're going to want to check these out.
"Horror is one of the most fascinating genres because it's receptive to so many hybrids," said Secret Movie Club founder and LA native Craig Hammill. "You can have monster movies, gothic horror, horror comedy, or horror spliced with sci-fi."
Everything happens at the Vista Theater in Los Feliz. Secret Movie Club will also host a Festival of Horror special screening with cocktails of Tobe Hooper's The Funhouse at the Regent on October 22nd. Attendees can purchase limited edition Secret Movie Club posters for every screening at all events. Each one features new art by contemporary illustrators. Secret Movie Club founder Craig Hammill introduces each film with a brief talk and a trivia question for the audience.
Check out the full line-up below:
Friday, October 4, 2019 @ 11:59p, The Vista
DONNIE DARKO
(2001, Arrow Films/AFGA, dir by Richard Kelly, 35mm, 113mns)
The Festival of Horror series kicks off with DONNIE DARKO, the movie that launched Jake Gyllenhaal's career and is now considered one of the 21st century's first bonafide horror classics.
Saturday, October 5, 2019 @ 11:59p, The Vista
ZODIAC
(2007, Paramount, dir by David Fincher, 35mm, 162mns)
Secret Movie Club presents what may be David Fincher's greatest movie on 35mm. Jake Gyllenhaal stars as Robert Graysmith, whose book the film is based on.
Click image to enlarge.
Friday, October 11, 2019 @ 11:59p, The Vista
THE THING
(1982, Universal, dir by John Carpenter, 35mm, 109mns)
Presenting the first film of John Carpenter's APOCALYPSE TRILOGY: 1982's THE THING starring Kurt Russell, which many consider to be Carpenter's masterpiece and one of the greatest horror movies of all time.
Click image to enlarge.
Saturday, October 12, 2019 @ 11:59p, The Vista
ROSEMARY'S BABY
(1968, Paramount, dir by Roman Polanski, 35mm, 137mns)
"As we move through our current moment, we, as programmers, have to wrestle with the complex legacies of classic movies that have now become problematic either because of their themes or the troubled lives of the filmmakers behind them," says Secret Movie Club's Craig Hammill. "The classic horror movie ROSEMARY'S BABY is just such a movie as it's directed by Roman Polanksi. We need to provide context for problematic movies (which we'll strive to do ahead of the screening) and let the audience themselves decide. We look forward to the conversation."
Click image to enlarge.
Sunday, October 13, 2019 @ 9:45am, The Vista
Val Lewton & Jacques Tourneur Double Feature, CAT PEOPLE & I WALKED WITH A ZOMBIE (1942/1943, RKO/Warner Brothers, both directed by Jacques Tourneur & produced by Val Lewton, Both 35mm, 73mns & 69mns )
Presenting two movies that are essential viewing for any filmmaker on how to make atmospheric, cinematic, literate horror on a low budget.
"Val Lewton was a producer tasked at RKO to deliver a series of B-horror movies," explains Hammill. "Rather than just rush the movies to satisfy the bottom line, Lewton embraced the challenges of a shoe-string budget, hired brilliant directors like Tourneur who felt they could turn out cinematic jewels despite the lack of resources, and found ways to adapt very dark, complex themes and novels, into horror movies that could work on multiple levels. CAT PEOPLE could have just been a movie about a woman with an Eastern European curse of turning into a predatory panther like cat filled with ridiculous costumes and cheap thrills. Instead, Lewton and Tourneur turned the movie into an incredibly disturbing, thrillingly cinematic experience."
Friday, October 18, 2019 @ 11:59p, The Vista
THE HILLS HAVE EYES
(1977, AFGA, written & directed by Wes Craven, 35mm, 90mns )
This is one of those horror movies that is going to put you through the ringer and leave you wanting a shower. Following a family that take a wrong turn during a cross-country trip and end up at the mercy of some very unsettling/backwards desert folk, THE HILLS HAVE EYES plays as a dark parable of the kind of violence that can be visited upon suburban middle class people who refuse to believe the poverty and suffering of those around them.
Saturday, October 19, 2019 @ 11:59p, The Vista
WHAT WE DO IN THE SHADOWS
(2014, Swank, written & directed by Jermaine Clement & Taika Waititi, 86mns )
The premise is pure comic simplicity and gold. Presented in the style of a mockumentary, WHAT WE DO IN THE SHADOWS follows the hilarious mundane peaks and valleys of three vampire roommates (and some werewolves they meet on nights on the town) in New Zealand.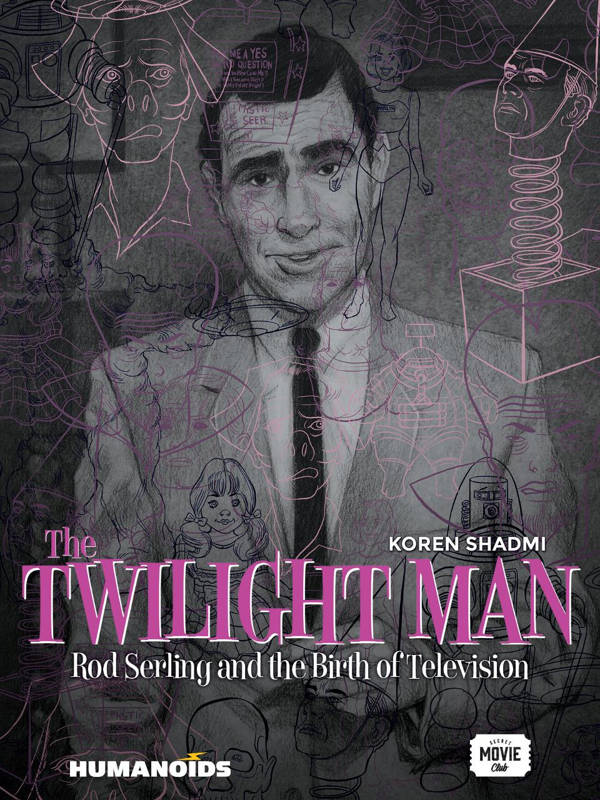 Click image to enlarge.
Sunday, October 20, 2019 @ 10:00a, The Vista
TWILIGHT ZONE Matinee Mini Marathon featuring "The Monsters Are Due on Maple Street," "Passage for Trumpet," and "The After Hours"
(1960, CBS, written by Rod Serling, 66mns, 16mm; Q&A, mini-discussions in between each episode)
Secret Movie Club is committed to the idea of exploring and examining what constitutes "cinema." Rod Serling's anthology series "The Twilight Zone" revolutionized television in its style, subject matter, and commitment to explore darker themes, ran for 5 seasons, and has influenced everything from some of our most beloved films to current anthology series like "Black Mirror."
Join the Secret Movie Club for a presentation of three classic Rod Serling penned Twilight Zone episodes and a celebration of cartoonist Koren Shadmi's dazzling biography TWILIGHT MAN: ROD SERLING AND THE BIRTH OF TELEVISION.
Tuesday, October 22, 2019 @ 8p (doors open at 7p, The Regent, Downtown Los Angeles
THE FUNHOUSE
(1981, Universal, directed by Tobe Hooper, 16mm, 96mns )
Special Note: This is an 18+ years old screening at the classic Regent Theater (built in 1914!).
Some horror movies are just pure nasty fun. Tobe Hooper, coming off his 70's low budget classics THE TEXAS CHAINSAW MASSACRE and EATEN ALIVE, created a very horrific concept: what if a group of morally suspect teenagers voluntarily decided to spend the night in a sleazy carnival funhouse on a dare?
Friday, October 25, 2019 @ 11:59p, The Vista
PRINCE OF DARKNESS
(1987, Universal, dir by John Carpenter, 35mm, 102mns)
The second part of John Carpenter's APOCALYPSE TRILOGY films is in many ways, maybe his most eccentric, strange, and unnerving movie.
Saturday, October 26, 2019 @ 9:45a, The Vista
James Whale & Boris Karloff Double Feature of FRANKENSTEIN & BRIDE OF FRANKENSTEIN (1931 & 1935, Universal, both directed by James Whale, 35mm, 71mns & 75mns )
Director James Whale used his two Frankenstein movies to smuggle in the themes of alienation, longing, and sexual desire that a closeted gay man in 1930's America might desperately feel but be unable to fully, openly express. Whale also smuggled in, especially in BRIDE OF FRANKENSTEIN, a wickedly hilarious sense of dark humor, that proved that horror movies could be simultaneously terrifying and entertaining.
BRIDE OF FRANKENSTEIN of course also features Elsa Lancaster as the Monster's desired wife and includes one of the most heartbreaking scenes of all horror cinema.
Saturday, October 26, 2019 @ 11:59p, The Vista
THE WITCH (2015, A24, directed by Robert Eggers, 93mns)
THE WITCH may be the single greatest horror movie since Kyoshi Kurosawa's 1997 CURE and easily in the top 5 horror movies of the last 40 years.
Thursday, October 31, 2019 @ 8:15p, The Vista
NIGHTMARE ON ELM STREET 1 & NIGHTMARE ON ELM STREET 3: DREAM WARRIORS
(1984 & 1987, New Line Cinema/Warner Brothers, directed by Wes Craven (1) & Chuck Russell (3), 35mm, 101mns & 96mns)
Wes Craven found ways, much like Val Lewton in the 1940's, to marry genuinely shocking horror to deeper themes of human psychology and emotion. On Halloween night The Secret Movie Club presents two of the greatest horror movies from the 1980's.
Friday, November 1, 2019 @ 11:59p, The Vista
IN THE MOUTH OF MADNESS (1994, Warner Brothers, dir by John Carpenter, 35mm, 95mns)
John Carpenter wrapped up his APOCALYPSE TRILOGY with a movie so wild and crazy, it ends with one of the most unexpected, brilliant twists of the last thirty years. Of course, we're not going to give it away! We're not even going to hint at it. Insurance investigator, John Trent (played by the always wonderful and game Sam Neill), is given the job of searching for missing famous horror novelist Sutter Kane. The only catch is that reading Kane's very popular books actually appears to drive readers insane...
Saturday, November 2, 2019 @ 10:30a, The Vista
THE EXTERMINATING ANGEL/El ANGEL EXTERMINADOR (1962, Janus, directed by Luis Bunuel, 96mns, Spanish with English subtitles)
The Secret Movies Club concludes its FESTIVAL OF HORROR with a special Dia De Los Muertos double dose of two great horror movies in Spanish (with English subtitles). First up is one of Spanish director Luis Bunuel's greatest movies, the Mexican shot and produced El ANGEL EXTERMINADOR. "Some might rightfully take us to task for classifying this as a horror movie, since it actually plays more like a brilliant surreal satire on society and the rich," says Hammill. "But there is something undeniably horrific about it even at the same time that it's filled with rich, biting, dark belly laughs."
Saturday, November 2, 2019 @ 11:59p, The Vista
THE SKIN I LIVE IN/LA PIEL QUE HABITO
(2011, Sony Pictures Classics, directed by Pedro Almodovar, 125mns, 35mm, Spanish with English subtitles)
Though Spanish filmmaker Pedro Almodovar is equally adept at screwball comedies, Hitchcockian suspense, and heartfelt examinations of modern sexual identity, he is often at his best when he allows himself to get really, really dark. "With LA PIEL QUE HABITO, we get what may be Almodovar's only out and out horror movie: a tricky tale of a wronged scientist's indescribable revenge on someone he feels is responsible for the death of his daughter." says Hammill. "This film is a descent into madness. . .but with a surprisingly philosophical and emotional purpose."
Want to share some news? Click here to hit us with it!