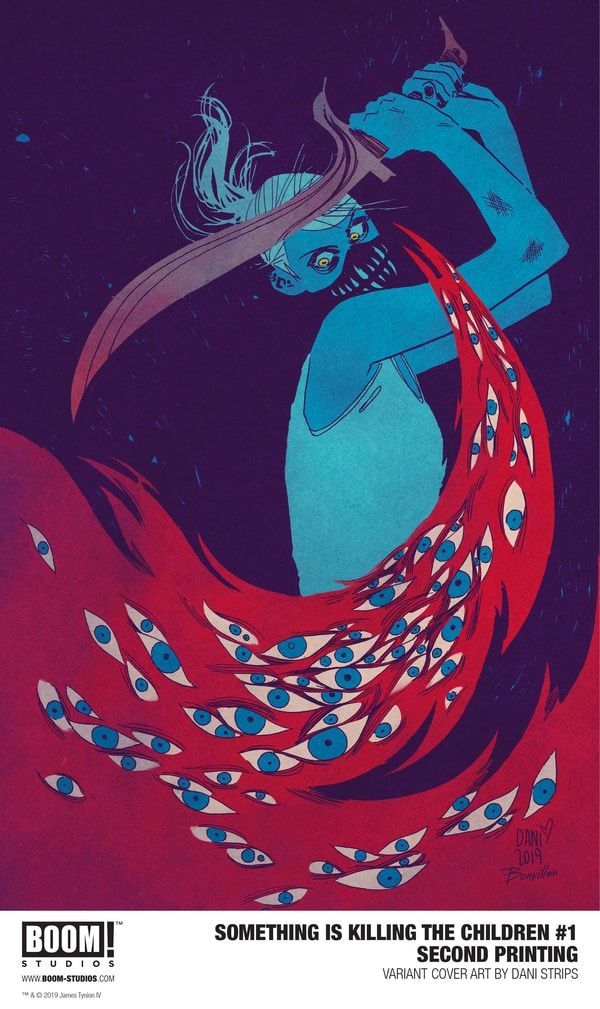 Click image to enlarge.
SOMETHING IS KILLING THE CHILDREN NOW AN ONGOING SERIES
Something is Killing the Children is set to debut in just a few weeks from BOOM! Studios. We've seen a few interior pages and cannot wait for this release. It seems others are filled with anticipation as the publisher has announced the first issue has sold out before it hits shelves. A second printing will be released the week after.
There's more news though as BOOM! has upgraded Something is Killing the Children to an ongoing series. This is great news as I cannot wait to see what else the creators have in store for us.
Something is Killing the Children is about a close-knit community rocked by a series of murders and the sudden appearance of Erica Slaughter, a mysterious figure who rides into town claiming she can stop the brutal murders turning their lives upside down.
But the local police and authority figures don't know what to make of this dangerous outsider who claims to believe the local kids and their rumors of monsters in the woods. Can they trust this so-called "monster" hunter with their children's lives? Or is Erica Slaughter an unhinged killer who'll only bring more tragedy into their midst?
"James, Werther, Miquel, and co. have created something truly special with Something is Killing the Children, and we're excited to bring readers even more of this strange yet thrilling horror series -- following Erica Slaughter as she faces off against monsters, and we begin to unravel the mystery surrounding her gruesome calling," said Eric Harburn, Senior Editor, BOOM! Studios. "With many more monsters to defeat and stories to tell, this is just the beginning for fans of horror comics."
Something is Killing the Children #1 is set for release on September 4th, 2019. The second printing of the first issue will come out on September 11th, 2019.
Want to share some news? Click here to hit us with it!