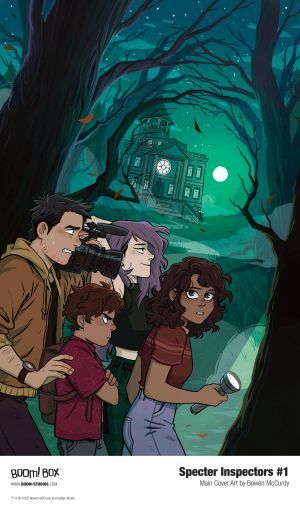 SPECTER INSPECTORS #1 FIRST LOOK PREVIEW
Specter Inspectors debuts next month and publisher BOOM! Studios has shared an early preview of the first issue. Written by Bowen McCurdy and Kaitlyn Musto, illustrated by McCurdy, and lettered by Jim Campbell, the series follows a group of social media savvy ghost hunters looking for supernatural hot spots trying to find out if ghosts are real.
True believer Noa, her cynical little sibling Gus, credulous camera man Ko, and Noa's skeptical best friend (and secret crush) Astrid head to one of the most haunted towns in America to prove that ghosts exist, for all the social media likes! The investigations of hauntings uncover something more devilish than just a couple of ghosts, something that will put Noa and Astrid's relationship to the test… and reveal the centuries-old sinister secrets of the town itself.
Spector Inspectors #1 features a main cover by McCurdy and variant covers by Erica Henderson and Mirka Andolfo. It's set for release on February 3rd, 2021.
Want to share some news? Click here to hit us with it!