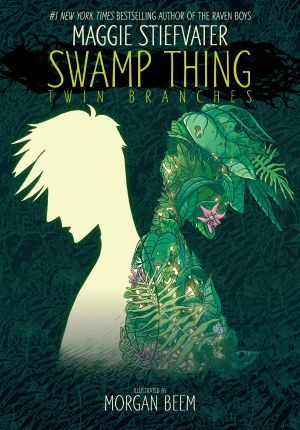 SWAMP THING: TWIN BRANCHES REIMAGINES THE CHARACTER FOR YA AUDIENCE
DC has been delivering some new and awesome takes on classic characters in a series of original graphic novels intended for a young adult novel. This fall sees the release of Swamp Thing: Twin Branches, a new story reimagining Alec Hollond for a younger audience with his origin framed as a coming-of-age tale about family, friendship, and acceptance. Swamp Thing: Twin Branches is written by Maggie Stiefvater, illustrated by Morgan Beem, colored by Jeremy Lawson, and lettered by Ariana Maher.
Twins Alec and Walker Holland have a reputation around town. One is quiet and the other is the life of any party, but they are inseparable. For their last summer before college, the two leave the city to live with their rural cousins, where they find that the swamp holds far darker depths than they could have imagined.
While Walker carves their names into the new social scene, Alec recedes into a summer school laboratory, because he brought something from home on their trip—it's an experiment that will soon consume him. This season, both brothers must confront truths ancient and familial, and as their lives diverge, tensions increase and dormant memories claw to the surface.
"We live in a world of increasing connectivity and increasing disconnect," said Stiefvater. "It's easier than ever to meet someone with shared interests, which makes it harder to realize that just because someone looks just like you, they may see the world in a completely different way. Nature and humanity, though, have always had this difficult and fascinating relationship, equal parts longing and logic and misunderstanding and projection, and I thought a reinvention of Swamp Thing would be an incredibly satisfying way to explore how hard complex relationships are as we learn who we are and what we need."
"Working with Maggie was awesome," said Beem. "She is such a charismatic, witty, and passionate human and writer. I am so excited about this book we have created together, along with the rest of our amazing team! For the art, I wanted to showcase something that really showed the full range of our character's feelings and struggles as a young human, and at the same time had a creepy, monstrous underbelly. I wanted our creature to be as much nightmarish monster as young person striving to find their place."
Stiefvater added, "It was fun to see Morgan's art grow wilder and more unsettling as the story desperately dug into the dirt and reached for the sun."
Swamp Thing: Twin Branches is set for release on October 13th, 2020.
Want to share some news? Click here to hit us with it!