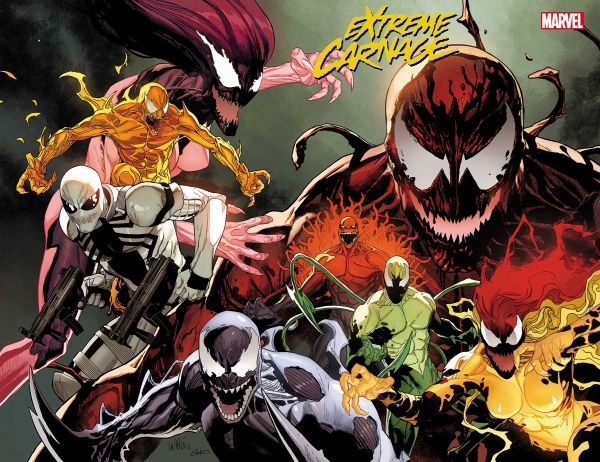 THE LIFE FOUNDATION SYMBIOTES RETURN IN JULY WITH EXTREME CARNAGE
King in Black is wrapping up this week and Marvel Comics is already planning its next symbiote-based event with Extreme Carnage kicking off in July. This one is focused on the Life Foundation symbiotes: Phage, Scream, Lasher, Riot, and Agony along with some other friends. They're facing a new challenge thanks to their big bad older brother, Carnage.
The action kicks off in Extreme Carnage Alpha #1 written by Phillip Kennedy Johnson and illustrated by Manuel Garcia. The above teaser artwork comes from Leinil Francis Yu. This shot features not only Carnage and the Life Foundation symbiotes (all offspring from Venom), but Toxin and a newly resurrected Flash Thompson (aka Agent Venom / Anti-Venom). I'm curious what role Toxin will play in this event. I'm also curious as to how Carnage comes back to life again or if this is his recently resurrected ancestor. The below cover by Dave Rapoza features Flash and Scream, newly reunited.
"After King in Black, everything we thought we knew about the symbiotes will have changed. Every man, woman, and child in the Marvel Universe will finally understand the massive threat the symbiotes represent, and the symbiotes that are still among us are now in the crosshairs of some extremely angry, scared, and powerful forces," Johnson explained. "In the pages of Extreme Carnage, we'll not only explain what Carnage is in this new, post-King in Black era, but also see a return-to-form for the deadliest symbiotes that have ever lived while putting them on a lethal new path for the future."
Extreme Carnage begins in July 2021.
Want to share some news? Click here to hit us with it!