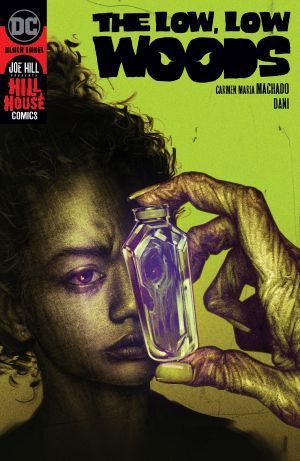 THE LOW, LOW WOODS #3 PREVIEW
Hill House Comics has been an absolute delight for this horror fan so I'm super excited to share a preview of The Low, Low Woods #3, due out next month from DC Comics. This has been a very creepy book so far and it looks like it's only getting moreso as time goes on.
Women with antlers like deer. Men in the woods with no skin. Coal mines, eternally burning underground. Just another day in the town of Shudder-To-Think, PA.

El and Octavia find themselves on two separate paths. One leads to somewhere deep within the Earth, and the other leads to a small green trailer on the edge of town. There, the people of Shudder-to-Think, PA say, lives a witch. For a price, she can change you—and even make you forget that which you no longer wish to remember. But what is the price of remembering that which you have lost?
Click image to enlarge
The Low, Low Woods #3 is written by Carmen Maria Machado, illustrated by Dani, colored by Tamra Bonvillain, and lettered by Steve Wands. It features a main cover by Sam Wolfe Connelly and a variant cover by Jenny Frison. It's set for release on February 19th, 2020.
Want to share some news? Click here to hit us with it!