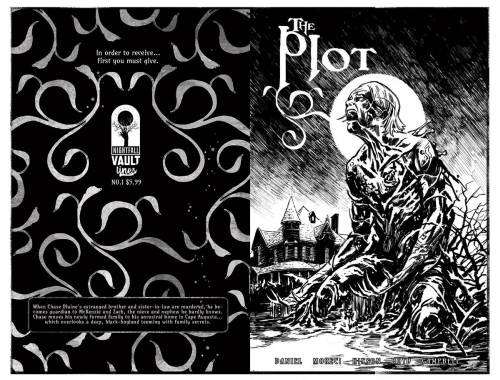 THE PLOT #1 GETS SPECIAL BLACK & WHITE EDITION
Vault Comics continues to add new and exciting things to the comic book industry with the announcement of a new Vault Lines edition of The Plot #1. This special printing is part of a series of deluxe black-and-white editions highlighting the original inks from the artists. It's printing on deluxe heavyweight paper and focuses on series co-creator and artist Josh Hixson's incredible linework.
"Aside from expressive character acting and sharply defined gesture, Josh does atmosphere as well as anyone in comics," said Tim Daniel, Vault's VP of Branding and Design. "His command of light and shadow, particularly in a horror comic, is the foundation upon which all else rests in The Plot. From the darkest corners of the Blaine Manor, to a flickering lantern's glow, Josh's highly evocative lines and tones profoundly impact the reader's experience, inviting us all into what his art has made a very real place--one that was once nothing more than some words in a script.
"Very early on we discussed publishing The Plot in black and white. Jordan Boyd signed on and you don't say no to Jordan's colors! However, we're very gratified that readers get to see Josh's work in The Plot as a Vault Lines Special Edition. Everyone seems to agree that doing horror in comics is hard, yet Josh has made it genuinely terrifying."
The Plot is written by Tim Daniel and Michael Moreci, illustrated by Josh Hixson, colored by Jordan Boyd, lettered by Jim Campbell, and designed by Tim Daniel. The Vault Lines Edition of the first issue is scheduled for release on February 12th, 2020.
This page includes affiliate links where Horror DNA may receive a small commission at no extra cost to you.
Want to share some news? Click here to hit us with it!