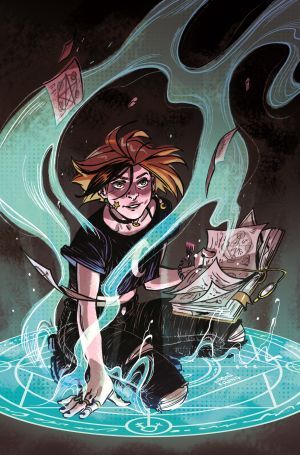 WILLOW #1 SELLS OUT; SECOND PRINTING COMING FROM BOOM! STUDIOS
Willow took center stage this past week starring in her own mini-series from BOOM! Studios. The publisher has announced the first issue has sold out at the distribution level so its rushing it back to print with a new over by Naomi Franquiz.
After everything—and everyone—she lost to the Hellmouth, Willow is leaving Sunnydale on a world-spanning road trip in search of her true self. She stumbles on a community of people like her: lost witches looking for answers...but there's a darkness at the heart of it, one that reminds Willow of something she's felt before, something that she fears inside herself. Now, truly alone for the first time in her life, Willow must rely only on her instincts—and her magic—to save herself from a threat Buffy never prepared her to face...or the rest of the world will pay the price.
"It's been an absolute blast getting Willow #1 in stores as everyone's favorite nerdy witch strikes out on her own for an adventure that introduces longtime fans and new readers to the greater, wider magical world of the Buffyverse," said Filip Sablik, President, Publishing & Sales, BOOM! Studios. "The amazing creative team of Mariko, Natacha, Eleonora, and Jodi have made this premiere issue a must-have, which is why we're very excited to announce a second printing with a beautifully illustrated new cover by Naomi Franquiz!"
Buffy the Vampire Slayer: Willow #1 is written by Mariko Tamaki, illustrated by Natacha Bustos, colored by Eleonora Bruni, and lettered by Jodi Wynne. The second printing is set for release on August 5th, 2020.
Want to share some news? Click here to hit us with it!