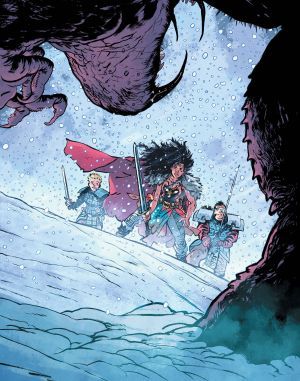 WONDER WOMAN: DEAD EARTH #2 PREVIEW
Daniel Warren Johnson is writing and drawing a Wonder Woman comic and it's awesome. Wonder Woman: Dead Earth takes Diana into a post-apocalyptic wasteland and Johnson's work suits this setting incredibly well. DC Black Label has shared an early preview of the second issue, due out in February 2020 which you can check out below.
Determined to give the remnants of humanity refuge on the shores of Themyscira, in the sophomore issue of DC's dynamic new Black Label release, Wonder Woman's hopes are dashed when she finds the island paradise a shadow of its former self, with her Amazon sisters long gone and something unimaginable in their place.
Wonder Woman: Dead Earth #2 is written and illustrated by Daniel Warren Johnson, colored by Matt Spicer, and lettered by Rus Wooton. It features two covers by Johnson as well. It's set for release on February 19th, 2020 and the final order cutoff date for comic shops is Monday, January 20th, 2020.
Want to share some news? Click here to hit us with it!