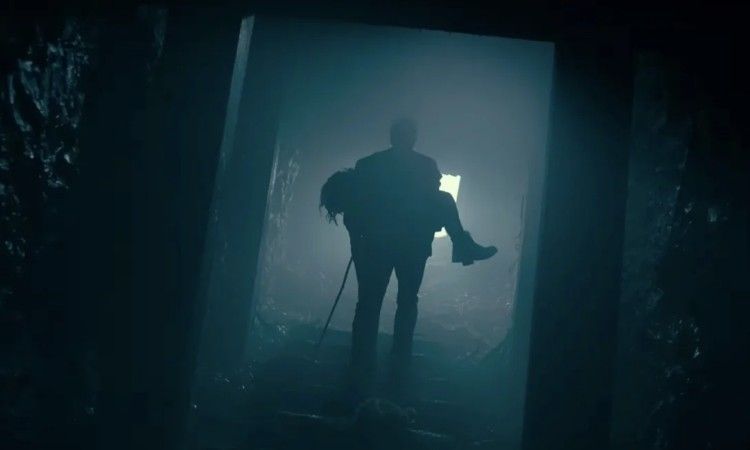 50 States of Fright - Season 1, Episode 1: "The Golden Arm" TV Episode Review
Written by Stuart D. Monroe
Premiered on Quibi
Written and directed by Sam Raimi
2020, 28 minutes, Not Rated
Premiered on Quibi on April 13th, 2020
Starring:
Travis Fimmel as David
Rachel Brosnahan as Heather
John Marshall Jones as Andy
Review:
As soon as you hear the name Sam Raimi, you know you are in for something cool. The man who gave the horror genre the world of The Evil Dead series, Darkman, and Drag Me to Hell also gifted the comic world with the "original trilogy" of Spider-Man films in the early 2000s. He's done westerns like The Quick and the Dead. How about sports films like For the Love of the Game? The point is simply that Sam Raimi is a true top-tier Hollywood legend and one of the great directors of our lifetime as well as a prolific producer (Ash vs. The Evil Dead, Xena: Warrior Princess, Hercules: The Legendary Journeys).
Naturally, when I heard that he was executive producer in charge of a new series about urban legends from each state of the U.S., I had to see what that was all about. Furthermore, the show is a tent-pole of the new Quibi app, which features big name stars in original content designed to be shown in "bite size" 10-minute episodes that premiere daily. It's an ambitious concept that seems perfect for the way we live our lives now, especially with everyone living the quarantine life. Sam Raimi even returns to his horror roots to write and direct the premiere episode, "The Golden Arm"!
David (Travis Fimmel; Vikings) makes a living building handmade furniture from the lumber on his Michigan property. His wife and the love of his life is Heather (Rachel Brosnahan; The Marvelous Mrs. Maisel), and she's "the prettiest girl in Alpena County" as well as being more than a bit on the expensive side. Andy (John Marshall Jones; Paradise Lost) is Travis' assistant and closest friend. One day Andy calls in sick, and David asks Heather for help felling a tree he needs for his next piece. Tragedy strikes, and the tree falls on Heather, pinning her arm underneath and forcing David to amputate it on the spot with an axe to save her life. She survives, but the missing limb makes her imperfect. And it's too much for her. She asks David for a prosthetic made of solid gold, and he goes into massive debt to make her happy again. The Golden Arm comes at a price, though, and Heather is soon gone. David buries her with her golden arm like she wanted, but he soon needs it back to avoid financial ruin after the funeral. Heather has no plans on letting it go.
The tale of The Golden Arm (or leg or even a toe) is an urban legend that is known across the world, and this is Michigan's version of the tale. According to Sam Raimi (whom we spoke with recently), this tale really messed with his head as a kid. That's plain to see, as Sam is having a lot of fun returning to his horror roots. All of his hallmarks are on full display – audio tricks (the wheezing wind effect is lovely), a narrator complete with voiceover in the character of Andy, the whip pan, the hard zoom, and (of course) his 1973 Oldsmobile Delta 88 makes an appearance. Watching Sam Raimi do his thing is like going back to your childhood – the nostalgic warmth of it all just puts you at peace.
The Golden Arm is an American fairy tale, essentially, and Sam Raimi tells it with a reverence that grounds the humanity while keeping just a trace of his dark sense of humor. Travis Fimmel is the perfect lead; he's got that look in his eye that gets a little more desperate as the story progresses. The chemistry between him and Rachel Brosnahan comes through. They make a captivating couple. John Marshall Jones should narrate more things. He has a great voice and delivery for it.
Then the horror begins, and The Golden Arm plays out like one of the great episodes of Tales from the Crypt. When a little blood and gore is called for it's certainly not skimped on, though it's not a splattershow. The SFX makeup on the returned Heather is classic stuff – just rotted out enough to be freaky without overplaying the hand. The lighting of the graveyard scene and the finale at the farm are pure old-school fun.
But that's Sam Raimi, isn't it? He makes horror like a kid tears ass through a candy store – with a gleam in his eye and a shit-eating grin on his face. The greats know how to take subject matter that isn't happy or fun at all and still make you enjoy it and feel their glee.
The other directors in this series are going to have a tough time following this act.
This page includes affiliate links where Horror DNA may receive a small commission at no extra cost to you.