Black Lake (aka Svartsjön) - Season 1, Episodes 1-3 TV Episodes Review
Written by Karin Crighton
Released by TV3 | US Premere on Shudder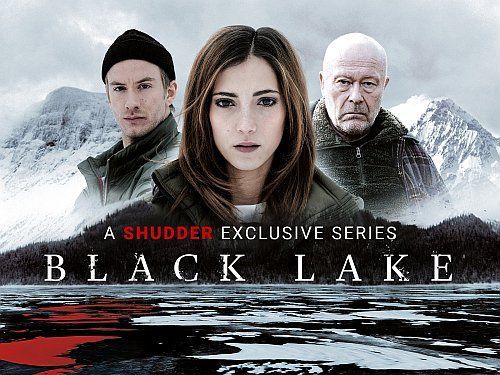 Directed by David Berron and Jonathan Sjöberg
Written by Peter Arrhenius, Moa Herngren, Ulf Kvensler, and Jonathan Sjöberg
2016, Not Rated
Premiered on Shudder on December 21st, 2017
Starring:
Sarah-Sofie Boussnina as Hanne
Filip Berg as Johan
Mathilde Norholt as Mette
Philip Oros as Frank
Aliette Opheim as Jessan
Review:
Black Lake Ski Resort is beautiful. Set into the mountains, it overlooks rolling hills of snow-capped evergreen trees. While long-abandoned, the resort itself is in pristine condition for Johan to buy and bring back to life, and his fiancée Hanne is thrilled to be there to support him at first. But the noises from the basement keep her awake and night. And that unfamiliar phrase keeps appearing on the walls and in drawings. And the original owners were brutally murdered in the resort.
Hanne (Sarah-Sofie Boussnina) has always felt a little out of place. After surviving a tragic accident that killed her little brother, her guilt over his death has dogged her like a shadow her whole life. Her boyfriend Johan (Filip Berg) hopes that taking on rejuvenating the Black Lake Ski Resort, along with a surprise mountaintop proposal, will kick start their new life together. But as a mysterious eye infection gradually spreads among the renovation team and the knocking in the basement grows louder, Hanne only grows more distant. When two neighborly brothers show up to join in the festivities, sparks grow between Hanne and the younger brother who is willing to investigate the resorts' deadly past. Tension hits a high when sweet Jessan (Aliette Opheim) hosts a séance to contact the forces within the resort and loses herself in a mania.
Heavily atmospheric, Black Lake is stunning to see and charmingly creepy. The episodes are a slow build, but they pass surprisingly quickly, leaving the viewer clawing for resolution. I've never seen pink eye used as a creepy harbinger of doom before; I have to hand it to the writers for using it so cleverly. The only weak part of Black Lake is the soap-operatic relationship drama. It seems odd that Johan would want to propose to Hanne when he can't accept her distraction with her brother's death and preoccupation with a decades-old murder. Even for a non-horror fan, if you found out a murder had happened under your feet, you'd be Googling for details right away, wouldn't you? Me too. Their strained connection leading to both of them seeking attention from others at the resort seems hasty and forced.
My hopes is it's related to the spirits of the victims lurking in the resort...but I'll find that out next episode!
This page includes affiliate links where Horror DNA may receive a small commission at no extra cost to you.