Folklore - Season 1, Episode 2: "Tatami" TV Episode Review
Written by Jeff Tolbert
Released by HBO Asia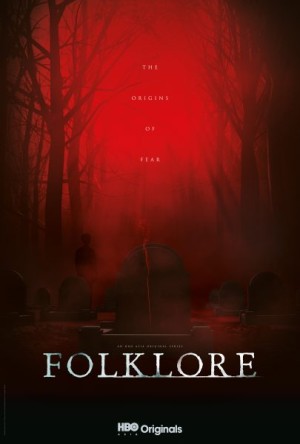 Directed by Takumi Saitoh
2018, 51 minutes, Not Rated
Episode premiered on October 14th, 2018
Starring:
Misuzu Kanno
Kazuki Kitamura
Daisuke Kuroda
Shima Ohnishi
Review:
Episode 2 of Folklore is based on the premise that tatami, the ubiquitous mats made of woven rushes that line the floors of many traditional Japanese homes (as well as specific rooms in more contemporary houses and apartments), bear witness to all the trials and tribulations of the people living there. We are told, through opening titles, that tatami actually absorb the emotions they're exposed to. If you're familiar with Japanese horror (or really, any horror at all), you can imagine where this is going.
The story follows Makoto, a writer working on a story about a murdered family. At the start of the episode, Makoto is prowling around the abandoned apartment building where the murder took place, taking photographs and being moody. He discovers a room in one of the apartments that is festooned with woven crosses and effigies, apparently made using rushes from a damaged tatami. Being a reporter and therefore Horror Character Type 3, he does not run away or alert the authorities or do anything else reasonable. No, Makoto instead sets up his PC and spends the night in the creepy room, compelled by a strange obsession seemingly prompted by the damaged tatami leaning against the wall. In the morning, Makoto blearily walks to his car. As he's preparing to leave the abandoned apartment, he gets a text from his mother informing him that his father has died.
At his parents' home, where his father's body has been laid out for viewing, Makoto experiences flashbacks to a strange and apparently traumatic past. It's about this time that the audience learns that Makoto is deaf, a detail not made explicit previously. Gradually we learn that Makoto's doting mother is perhaps too doting, and that his parents shared a dark secret centered on a single tatami in an otherwise empty room tucked away in a corner of their rambling, Japanese-style house.
Although the lead, Kazuki Kitamura, does an admirable job as a non-speaking protagonist, and Misuzu Kanno is a convincing crazy matriarch, there's unfortunately little else to recommend Tatami. The plot is sparse and too loosely connected to be believable. Why did this particular tatami become what it did, whereas the millions of others in Japan are apparently normal? What exactly did the opening sequence in the abandoned apartment have to do with anything? And what was with the ridiculous ending? The stakes are too low, because most of the action of the film happens in the past. And the ultimate revelation, such as it is, doesn't seem especially meaningful, because we haven't had time or reason to establish any connection to the characters.
I'd like to think that this might be a case of things being lost in translation. But in the interest of transparency, I've lived in Japan, and although I don't speak the language, I'm a card-carrying Japanophile. This doesn't really feel like a failure to understand culturally-specific references. It feels like it's just not a very good episode.
Click on a cover to read more episode reviews of Folklore: Season 1.
This page includes affiliate links where Horror DNA may receive a small commission at no extra cost to you.
Want to comment on this review? You can leave one below or head over to the Horror DNA Review Forum.