Folklore - Season 1, Episode 3: "Nobody" TV Episode Review
Written by Jeff Tolbert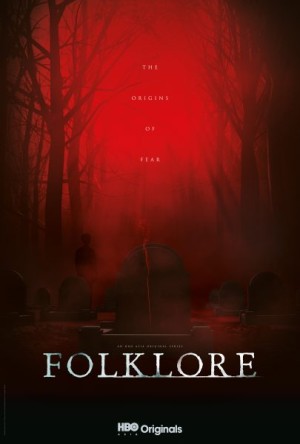 Directed by Eric Khoo
2018, 52 minutes, Not Rated
Episode premiered on October 21st, 2018
Starring:
Aric Hidir Amin
Louis Wu Luoyi
Jean Maguire
Dayang Nur Balqis
Sivakumar Palakrishnan
Li Wenqiang
Review:
A body is found on a construction site in Singapore. The unscrupulous foreman directs a worker to burn it. The worker, Peng, takes pity on the dead person—a young girl—and buries her instead, burning a pile of wood to convince his supervisor that he's done as he was told. As he's preparing the body for its makeshift burial, he notices an iron spike driven into the back of her neck. He removes it, in a further gesture of respect to the corpse, and throws it away.
Peng is a nice man. He and his wife both work abroad to support their family while their young daughter lives at home (presumably in China) with Peng's mother. He works hard, and though he showed kindness and respect to the corpse found at his job site, the young girl's ghost soon appears, creeping and crawling and being generally ghostly. Peng doesn't seem to notice, but one of the other workers, who is from Malaysia, is more worried about the implications of the corpse's discovery. When the priggish supervisor coughs up an iron spike, the Malaysian worker confronts Peng about his supposed destruction of the corpse. Peng admits that he buried her, and they go out the next day to uncover the body. Naturally it's gone.
Apparently, the girl has become a pontianak, the angry ghost of a pregnant woman. The iron nail was intended to prevent this from happening; Peng's kind gesture unleashed the vengeful spirit. It's not entirely clear why she attacks the workers at the job site, except that they disturbed her. Peng's kindness seems to have gotten him off the hook, anyway.
I never thought I'd say this, but the ghost-filled parts of this story are the least interesting. The part that is interesting is the social and economic dynamics at play. There are workers from overseas, subject to the tyranny of the corrupt bosses, and the interpersonal drama is far more compelling than the supernatural elements. There's a story of awful human suffering, rather artlessly revealed via flashbacks to the young girl-cum-pontianak's final moments. All of these could have made a fascinating story.
Instead we get glimpses of that story sandwiched together with an entirely unimpressive horror schlockfest. When we finally see the girl in her monstrous glory, it's unbearably cheesy. Bad makeup, hammy acting, campy camerawork. There are a handful of eviscerations (which we see after the fact), and the fake gore is barely a step up from ketchup and strings of sausages.
This episode of Folklore is another missed opportunity. There are indeed fascinating stories throughout world folklore that would serve (and have served) as the bases for excellent horror stories. But so far it hasn't happened here: what we get are recycled horror anthology stories (think The Outer Limits and you're really not far off) with some self-consciously local flare, some okay-to-terrible acting, and some truly unfortunate special effects.
I don't want to judge too harshly, because I don't know the cinematic conventions of the six countries whose expressive cultures form the bases of these episodes. I know virtually nothing about Singapore. (Although this movie did send me down a brief Wiki-hole, through which I learned there is a city in Indonesia called Pontianak, apparently named for the angry ghosts.) But in the broader, international context of contemporary horror, of which Folklore is clearly trying to be a part, "Nobody" doesn't hold up.
Click on a cover to read more episode reviews of Folklore: Season 1.
This page includes affiliate links where Horror DNA may receive a small commission at no extra cost to you.
Want to comment on this review? You can leave one below or head over to the Horror DNA Review Forum.