Into the Dark - Season 1, Episode 8: "All That We Destroy" TV Episode Review
Written by Shane D. Keene
Released by Blumhouse
Directed by Chelsea Stardust
Written by Sean Keller and Jim Agnew
2019, 90 minutes, Not Rated
Premiered on Hulu on May 3rd, 2019
Starring:
Aurora Perrineau as Ashley
Israel Brousard as Spencer
Samantha Mathis as Dr. Harris
Review:
Confession: This is a something I did not expect to love. The premise of a sheltered young man with an overprotective mother and a penchant for making people dead has been covered to the point of smothering it to death, so it seems like not much new material remains to be brought to the table. Yet, here I stand, humbled and corrected. Because while it riffs on a common and extremely familiar theme, make no bones about it, Into the Dark: All That We Destroy is its own breed of animal. It's a typical trope that takes place in an atypical setting, remote yet seemingly idyllic. But when you rip away the outer skin of it, there's nothing even vaguely picturesque or paradisal about it. What you find in the darkness beneath the surface feels like a bizarre amalgamation of Groundhog Day, Psycho, and Frankenstein, with a Black Mirror twist.
As I was beginning to get the general gist of the episode, my first thought was, "Norman Bates, anyone?" At that point, I was prepared to dismiss it for pastiche. And it's true that the dynamic between mother and son and the story that surrounds them is reminiscent in its way of the relationship between Norma and Norman in Bates Motel. But writers Sean Keller and Jim Agnew, along with director Chelsea Stardust, deliver the unexpected, subverting the theme and transforming the tale into something stranger and more horrifying than Robert Bloch or Alfred Hitchcock ever imagined. With a good horror film, there's a sort of synergy that occurs between the viewer and the art that generates, albeit briefly, a sort of frisson in them. All That We Destroy manages to do just that, steadily piling on the chills, dragging you in and holding you captive until the brutally satisfying finale. Sure, the writing itself always does a lot to drive the narrative, but in this case, the execution, visualizations, lighting, dialogue, and cinematography are all fucking near perfect and the credit for this episode's stunning success—and my visceral response to it—rests firmly on the director's shoulders.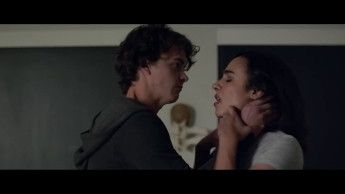 But it isn't a single-handed effort by any means. The three lead actors all brought their A games to the playing field, and with Stardust at the helm, they offer up good to stellar interpretations of their characters. Spencer (Israel Broussard; Happy Death Day 2U) and his mother, geneticist Dr. Harris (Samantha Mathis; Nighmares & Dreamscapes), deliver an ultra-convincing portrayal of a troubled young man with a terrible secret, and the doting mother who may or may not be the real monster here. But that's just the tip of the iceberg. Broussard and Mathis are the bones and without them it would all come tumbling down, but the heart and soul of the episode, the glue that holds it all together, is Aurora Perrineau as Ashley. Her presence is fiery and palpable and she turns in the most utterly convincing and passionate performance in the entire movie, taking a should see flick and turning it into an absolute must see.
Another thing I would be remiss in not gushing over is the atmosphere in this twisted tale. Again nodding to Stardust, the tone and mood are nearly flawless, bleeding tension and an ever-building sense of dread that carries you along like flotsam in a tsunami. It crackles with danger and, while it certainly takes all the time it needs to build the story—and does a goddamn fine job of it—the pacing rages along like a bull with its ass on fire. I found myself watching the end credits much sooner than I expected to, and I happily went back and raced through again for the purpose of note-taking. 5 of 5 stars, but only because I don't have more than that available to me. If you have Hulu, most definitely give it a watch. If you don't have Hulu, unfuck that so you can watch this unexpectedly fantastic piece from Chelsea Stardust and Blumhouse Television.
This page includes affiliate links where Horror DNA may receive a small commission at no extra cost to you.