Into the Dark - Season 2, Episode 10: "The Current Occupant" TV Episode Review
Written by Stuart D. Monroe
Premiered on Hulu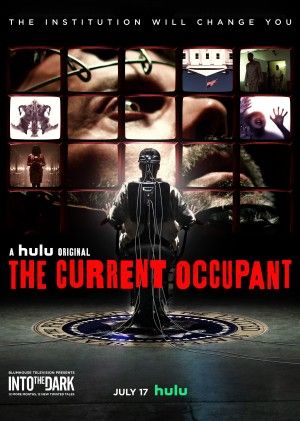 Directed by Julius Ramsay
Written by Alston Ramsay
2020, 85 minutes, Not Rated
Premiered on Hulu on July 17th, 2020
Starring:
Barry Watson as Henry Cameron
Sonita Henry as Dr. Watson
Ezra Buzzington as The Administrator
Marvin "Krondon" Jones as The Orderly
Lilli Birdsell as The Secretary of State
Dean Sharpe as Big Sam
Joshua Burge as The Emperor
Kate Cobb as Eliza
Shellye Broughton as Alma
Review:
July is rife with opportunity for the Into the Dark series. It's the month that gives us our national birthday, after all, and it's the traditional vacation month. Some would argue it's the most downright American month of the entire year. What no one will argue is that we're going through a lot of shit (of various degrees of stink) as a country, and it's a patently insane time to be an American. In other words, it's a perfect time for the birthday edition of Into the Dark.
Last year, July gave us Gigi Saul Guerrero's criminally effective Culture Shock. That particular nightmare was big, bright, and surreal in its most terrifying moments; an allegory for a hideous future with appalling consequences. 2020 is a different kind of year, though, and this is a different kind of story.
The Current Occupant is the story of Henry Cameron (Barry Watson; Teaching Mrs. Tingle, 7th Heaven), a man who wakes up in a hospital after a barely-remembered shooting that nearly took his life. He's damn lucky to be alive, but his memories are wiped clean. Henry signs a waiver-laden contract to undertake an experimental procedure so he can "get his life back", soon realizing that he's the President of the United States and the shooting was an assassination attempt. Henry wants answers, but he's not getting any from the relentless Dr. Watson (Sonita Henry; Krypton) or his "friend", the Orderly (Marvin "Krondon" Jones; Black Lightning). He reneges on his contract and is required to continue the treatment anyway, only now he has to do it in a dingy psych ward underneath the White House where he is slowly going mad. Is he really the President? Who can he trust? Is he as crazy as all the loonies around him?
The Current Occupant shows its hand early with an assault on the senses, A Clockwork Orange-esque opening credit sequence that sets a strong tone of questioning your reality. That's definitely the initial theme, but it's far from the only theme being tackled here (I'll stop to avoid spoilers). Madness runs through of every frame of this movie, and while it varies in effectiveness depending on who Henry is interacting with, it's always a question of if you'll believe what you're even viewing. Every theory is plausible.
The Current Occupant is a painfully spot-on analogy for how everything feels here in the Summer of 2020 – it's a crisis of identity and buried pain, of having to face shit that you've been burying for an extremely long time, and coming to grips with a new reality. The timeliness and relevance of it actually can't be understated.
Barry Watson owns every layer of his pain and confusion a little differently, thereby giving a performance with various faces. It's a hell of a fine turn. The cast around him all handle their roles with appropriate aplomb, but it's Marvin "Krondon" Jones (an action star and talented rapper) who steals every scene that he's in. Not only that, but you can just tell this cat is having a damn good time playing a twisted version of Nurse Ratched.
The Current Occupant is a more cerebral and emotional kind of horror. If you're hoping for blood and guts, you'll not see much of it here. There are a number of visually intense and trippy shots (especially during the treatment scenes) that will put some folks off as well, but they serve their purpose well. It's not a story that needs a high body count to be horrific.
Wait. That sounds familiar and relevant, too…
Happy Birthday, America.
This page includes affiliate links where Horror DNA may receive a small commission at no extra cost to you.