Into the Dark - Season 2, Episode 12: "Blood Moon" TV Episode Review
Written by Stuart D. Monroe
Premiered on Hulu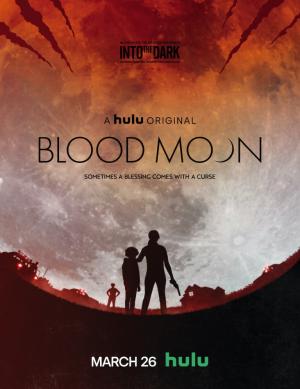 Directed by Emma Tammi
Written by Adam Mason
2021, 82 minutes, Not Rated
Premiered on Hulu on March 25th, 2021
Starring:Megalyn Echikunwoke as Esme
Yonas Kibreab as Luna
Joshua Dov as Sam
Marco Rodriguez as Miguel
Gareth Williams as Sheriff Barlow Townes
Brian R. Norris as Deputy Hammond
Jack Yang as Dad
Review:
It's hard enough to be a widow. You can double the challenges when that also makes you a single mom. Life gets exponentially tougher when your son is a werewolf, as was his father before him. The body disposal alone, not to mention caging and security, are going to be an absolute bitch to deal with. What's a mother to do with a son whose hunger is growing? Can they stay ahead of the law?
Esme (Megalyn Echikunwoke; House of Lies) and her young son, Luna (Yonas Kibreab; The Big Show Show), settle in a small Southwestern town. Luna is a werewolf, and unbeknownst to him they've returned to the town where his mother met his father (also a werewolf). Esme is trying to stay ahead of her past and a trail of suspicion. She draws the ire of the sleazy town sheriff, Barlow Townes (Gareth Evans; Mindhunter), and from there the clock is ticking towards an inevitable disaster when Luna has his next change at the full moon. There are very few creatures in the world more tenacious than a single mom, however, and this family won't go quietly.
Blood Moon presents a story that has natural drama and tension built into it by the very premise. It also explores the horrific pitfalls of raising a young werewolf through the sainted eyes of the single mom. Having been raised by my mom only, I have a deep appreciation for this perspective. Werewolves are scary, sure…but they really don't have jack shit on some of the things my mom had to fight through. So, the pairing should have made some for some intense horror to go with the family drama, right?
Here's the thing – the story of Esme and Luna is handled with deft pacing, genuine emotion, and some gravitas. The heart of the story will leave you satisfied with a damn good ending as the bow on top. Megalyn Echikunwoke has a killer turn as the highly guarded and legitimately tough mother who's had to literally kill to protect her son and herself. It's a real breakout performance for her, and Yonas Kibreab is no slouch, either. The cast all around deserves high marks; that's not the issue.
You're not expecting a movie about an extremely young werewolf to be a balls-to-the-wall gorefest full of Rick Baker SFX, but the lack of any real physicality takes the wind out of your sails a little bit after the overly patient build to get to what is supposed to be an "Oh shit, he's loose!" kind of moment. Werewolf horror comes with something of an expectation, for better or worse, and Blood Moon doesn't live up to that.
When the human drama element comes up so well done and the horror comes up frankly a bit PG, what you're left with is a well-acted and well-shot movie that does just enough to keep you going along to the finish because of your emotional investment in the characters. But this is a werewolf movie, dammit, and I need at least one gnarly evisceration presented with loving detail. And then there's the change…
I'm not going to spoil this one because the finish is soundly in sync with the story of Esme and Luna as a family. It works beautifully in many respects, but Luna's transformation is distinctly underwhelming. Blood Moon ends up becoming a film that works wonderfully in none of the facets you expect while coming up uninspired and a tad banal in the guts, so to speak, of a werewolf film.
Blood Moon is by no means a waste of your time; I'm not saying that. I am saying that it feels the least like an Into the Dark episode out of all those I've covered, and I've been covering the series since July of 2019. It's an ass-kicker of a family drama with a wonderfully portrayed single mother, but it's a nipping puppy of a werewolf film.
This page includes affiliate links where Horror DNA may receive a small commission at no extra cost to you.