Into the Dark: Season 2, Episode 3 – "A Nasty Piece of Work" TV Episode Review
Written by Stuart D. Monroe
Released by Hulu | Blumhouse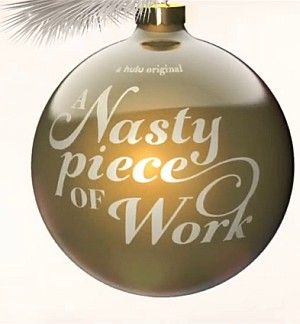 Directed by Charles Hood
Written by Paul Soter
2019, 90 minutes, Not Rated
Released on December 6th, 2019
Starring:Julian Sands as Steve Essex
Molly Hagan as Kiwi Essex
Kyle Howard as Ted
Angela Sarafyan as Tatum
Dustin Milligan as Gavin
Natalie Hall as Missy
Nico Greetham as Daniel
Review:
Have you ever worked a job that gave you a Christmas bonus? If you have, then you know exactly what makes the Jelly of the Month Club bait-and-switch in National Lampoon's Christmas Vacation (a.k.a. The Greatest Christmas Movie Ever) so painfully funny. It's that carrot dangling at the end of the stick, the proverbial prize at the end of the rope. The same can be said of that promotion you're gunning so hard for. You'd step over the body of your rival for it, firmly placing your boot on their throat as you pass. Most of you would compromise your character and morals for it, in many cases. You might even kill for it.
Furthermore, there's no time of year that exemplifies the peak of that drive and the culmination of those efforts quite like Christmas. The holiday season is the symbolic and literal close of the year. Whether it's shopping online with the credit cards or flattening a rival, we all go a little crazy once that tree goes up and there's a fire in the hearth. It's with that spirit of competition and avarice that Hulu gives us the December offering for their Into the Dark series, A Nasty Piece of Work.
Ted (Kyle Howard; Orange County) is a middling, ass-kissing mid-level employee at Falconheart Ventures. He's desperate to get ahead. He drives himself crazy trying to anticipate the whims of his evil boss, Steve Essex (Julian Sands; Warlock, Naked Lunch), while trying to stay ahead of his even more sycophantic rival, Gavin (Dustin Milligan; Demonic). When Mr. Essex cancels the yearly Christmas bonuses for the entire company, Ted is ready to snap…until he's invited to an "opportunity initiative" dinner at the boss's house! He brings his meek and supportive wife, Tatum (Angela Sarafyan; Westworld), with him to the palatial estate. He arrives at the same time as Gavin and his gorgeous wife, Missy (Natalie Hall; Charmed). Things immediately get weird and intense when the two rivals meet Mr. Essex's wife, Kiwi (Molly Hagan; Election), and are subjected to their War of the Roses-style shenanigans. It soon becomes apparent that they're participating in the world's deadliest and most bizarre job interview ever. They must look into dark and uncomfortable places within themselves to decide how badly they really want to move up in the company and get that dream job.
Throughout the film, an occasional title card will deliver a new "Falconheart Ventures Rule for Success" that serves as a segue for the next bit of craziness. Here are the rules:
Show initiative.
Don't hold anything back.
Be prepared for anything.
Don't see the problem, see the solution.
Adapt… or perish.
Go for the jugular.
Never take your eyes off the underdog.
Are you starting to get the idea? It's a tried and true progression that keeps you invested in the action as one bonkers incident leads into the next. The couples are being toyed with; whether it's merely for the boss and his wife's amusement is up to you to figure out. The premise isn't half as farfetched as it sounds, and your disbelief is easily suspended by a stellar cast spearheaded by the always-captivating Julian Sands. He's at his best here and clearly having a blast, particularly with Molly Hagan. Their chemistry is just a lot of damn fun. I was surprised at how often I laughed; the blending of absurdly dark comedy and horror is deftly handled.
The Christmas theme isn't overpowering; you won't find a murderous Santa or any demonic elves here. It's really more of a setting/window dressing than a direct influence on the story, but it does make for a picturesque backdrop for some fun psychological horror that's light on the gore and violence but still packs a heavy dose of "What the fuck am I watching?"
There are loose ends that aren't cleanly tied up pertaining to a hint of previous murders and a dude living in the walls, but you can draw your own conclusions to satisfy those minor plot holes. The twisty, turny ending is still highly entertaining and sadistically satisfying. Overall, A Nasty Piece of Work is just that – an aptly named fable about the perils of climbing the corporate ladder and putting too much emphasis on the material things.
And, oh yeah…you really shouldn't take your eyes off the underdog.
This page includes affiliate links where Horror DNA may receive a small commission at no extra cost to you.