Into the Dark - Season 2, Episode 4: "Midnight Kiss" TV Episode Review
Written by Stuart D. Monroe
Released by Hulu | Blumhouse Television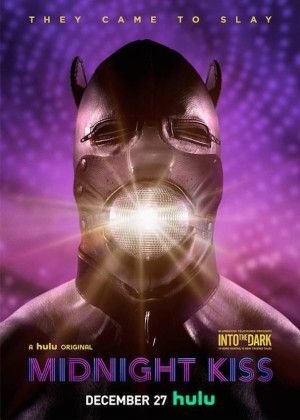 Directed by Carter Smith
Written by Erlingur Thoroddsen
2019, 89 minutes, Not Rated
Premiered on Hulu on December 27th, 2019
Starring:
Scott Evans as Joel
Augustus Prew as Cameron
Lukas Gage as Logan
Chester Lockhart as Zachary
Ayden Mayeri as Hannah
Will Westwater as Ryan
Adam Faison as Dante
Review:
One of the biggest and best trends of recent years is the inclusion of the LGBTQ community into the horror community. Incidentally, the style is one that I missed growing up since, well, it didn't exist in the '80s or '90s. Movies like A Nightmare on Elm Street Part 2: Freddy's Revenge kept it firmly in the closet, while Nightbreed stuck to a general narrative left up to interpretation. Since the turn of the millennium, however, this inclusion has become more prevalent and increased in quality in the genre.
Arguably no subgenre has been more suited to queer horror than the slasher film, and the newest entry in Hulu's Into the Dark series, Midnight Kiss, is both gloriously gay and a truly formulaic slasher film that doesn't miss a beat (even if it is a little light on body count). The holiday for this one is New Year's Eve, and it's every bit as decadent as you'd hope.
Cameron (Augustus Prew; Kick-Ass 2) is a fine-art photographer who's going places. He's also dealing with a recent breakup from Joel (Scott Evans; Southbound). He'll get no reprieve from his pain, however, as his group of friends are getting together at Joel's party pad for their yearly New Year's Eve festivities. There's the resident queen, Zachary (Chester Lockhart; Ru-Paul's Drag Race), an Instagram model who's pure drama and beauty. Also along for the ride is Cameron's straight best friend, Hannah (Ayden Mayeri; Homecoming). Then there's Joel's new surprise fiancée, Logan (Lukas Gage; Assassination Nation), who seems out of his element with the old friends. Every year they play a game called "Midnight Kiss" where they attend a raucous New Year's Eve party, drop some mollies, and hook up randomly (though not with anyone inside the group) to find that ritual midnight kiss. The game is wearing thin on everyone, but traditions must be followed. Unfortunately, someone from their past is back for one last game, and after slaughtering their friend, Ryan (Will Westwater; Methadone), the bondage gear-clad killer intends to make sure they all pay in fabulously vicious fashion.
Midnight Kiss knows how a proper slasher flick is supposed to work, and it sticks closely to the formula. It's a bit of Everything Relative and The Big Chill mixed with the vengeance angle of I Know What You Did Last Summer and the structural layout of every Friday the 13th film. The mixture works surprisingly well, both as a dramedy and as a slasher. More of the movie is spent in dramedy territory; when the kills come, they are unapologetically violent and effective. I'm still tickled to no end at the sight of a deepthroated broken champagne bottle. That shit is righteous!
The chemistry amongst the cast is solid and reliable. Having believable relationships makes the violence mean something. The tone is somewhat scattershot, though. There's a strong camp vibe that pops up on occasion, but it isn't maintained in consistent fashion. When the killer sprinkles confetti on his first victim and takes pictures, you get the feeling that there will be some glamour and fun to the kills. While it's not to be, eschewing flair for raw savagery isn't a bad call. More bodies would've been a plus.
You know it's a slasher when the main complaint is that there aren't enough violent deaths.
Still, the spirit of the slasher is alive and well with Midnight Kiss even if the body count isn't that high. There's style to spare. It's full of gratuitous sex and hedonism paired with drinking and drug use. There's a douchebag doing douchebag things. The killer wears a mask that would look right at home in the kind of video you have to dig a little deeper on the net to find. In short, it's a good time.
I can't honestly say that I've seen enough gay horror to make a statement like "Midnight Kiss sets a high bar for gay horror". I can say, despite my novice status, that if Midnight Kiss is the standard, then go ahead and sign this straight dude up for more. The style is growing on me.
This page includes affiliate links where Horror DNA may receive a small commission at no extra cost to you.