Riverdale - Season 1, Episode 5: "Heart Of Darkness" TV Episode Review
Written by Ali Chappell
Directed by Jesse Warn
Written by Roberto Aquirre-Sacasa
2017, Rated TV-14
Episode premiered on February 23rd, 2017
Starring:
K.J Apa as Archie Andrews
Lili Reinhart as Betty Cooper
Camila Mendes as Veronica Lodge
Cole Sprouse as Jughead Jones
Madelaine Petsch as Cheryl Blossom
Casey Cott as Kevin Keller
Review:
Chapter five of Riverdale focuses on the funeral of Jason Blossom. The overall tone is set with a shade of darkness over it. We meet the whole Blossom family and the hints of red, like drops of blood on the screen, really set the family apart from the rest of the town. While this episode only provides us with little tidbits of information, the overall style is stunning and compares to the essence of Crimson Peak for gothic horror.
The Blossom mansion, Thornhill, is where the funeral is held. Cheryl tries to be strong and speak up for her brother. She goes as far as to wear the white dress she wore the day she let Jason run away. She supports and loves her brother and it is clear that her family does not feel the same way. They feel as though they wasted their time on Jason when Cheryl is clearly the obvious choice for their maple syrup empire. I really enjoy this dynamic between the town and the Blossom family. The fact that they have set themselves apart so much really shows and gets brought out in this episode. Cheryl and Jason really only had each other and without him around, it's just Cheryl all alone, even her mother doesn't want her. She would rather have shipped off to a boarding school. I enjoy that Veronica, despite their drama, is the bigger person and stands by Cheryl throughout the funeral when she needed someone. She is trying to be a different person from her old life; I respect anyone who can try for redemption.
During the funeral, Jughead and Betty learn from Cheryl's senile old grandmother that Jason gave her family ring to Poppy. Meaning the two were engaged before his disappearance. When they confront Betty's dad, Hal (Lochlyn Munro), about it, they find out the true meaning behind the feud of the Coopers and the Blossoms. As it turns out, Cheryl and Betty's great-grandfathers were maple syrup business partners and, well, there was nothing sweet about their arrangement. Turns out great-grandpa Blossom murdered great-grandpa Cooper. That's why they were so concerned with Polly getting involved with Jason, that's why she got sent away to "get better". The feud with the Coopers and Blossoms is about to become my favorite storyline in the whole show. Just like Cheryl is slowly becoming my favorite character.
The set up for the episode is really well done. The way they show the Blossom's home is like it is some haunted house where bad things happen. The doors are now open at Thornhill, and big houses hold big secrets. This is a turning pointing he show, not just for Cheryl's character but for what truly happened to Jason. I'm very much looking forward to seeing what happens behind those gates.
Side bar. We are five episodes in and Jughead still hasn't eaten one single burger. I am not letting this go. EAT A BURGER. C'mon!!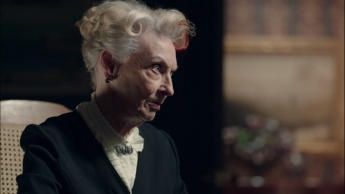 Click on a cover to read more episode reviews of Riverdale: Season 1.
This page includes affiliate links where Horror DNA may receive a small commission at no extra cost to you.