Written by Steve Pattee
DVD Released by Warner Bros.
Various writers and directors1992, Region 1 (NTSC), 376 minutes, Not ratedDVD released on July 25th, 2006
Starring:
Various
Movie:
If you've been living in a vacuum since 1989, you've probably never heard of the "Tales from the Crypt" TV show.
With its first season consisting of six episodes, each a standalone tale of monsters and mayhem, "Crypt" brought the comics of the same name to life on the small screen.
But what made "Crypt" better than your average show was that it aired on HBO — which meant it could be more gross, violent and vulgar than a show on regular network TV. Plus, it could have boobies. Hey, when you were a 17-year-old horror fan when the show first aired, like I was, you couldn't ask for anything more.
Sporting such stars as Christopher Reeve (Superman), Brad Pitt (Se7en) and Joe Pesci (Casino) and the strength of directors such as William Friedkin (The Exorcist), Joel Silver (Child's Play, Fright Night) and Gilbert Adler (Demon Knight, Bordello of Blood), the fourth season of "Crypt" promised to, once again, deliver the chills and thrills of the previous three.
Review:
"Tales from the Crypt: The Complete Fourth Season" is a three-disc set consisting of 14 episodes. Being a fan of the series in my late teens/early 20s, and a born-again fan after reviewing The Complete First Season and The Complete Second Season, I immediately popped in the first disc— with episodes one through six — and waited for the fun.
Sadly, with the exception of Heavy D in "A Deadman's Chest," the first five episodes were rather mediocre. You have to give Heavy some credit. Competing with the likes of Treat Williams, Dylan McDermott and Mimi Rogers, his performance in episode three as a tattoo artist whose work really comes alive managed to shine the brightest.
But when "What's Cookin'," the last episode on disc one, finished, I knew the series was back on track. Easily my favorite episode of the season, and one of my favorite of the series, "Cookin'" shows the lengths a restaurant owner, Christopher Reeve, will go through to keep his business afloat. Co-starring Bess Armstrong (Jaws III), Meat Loaf (Fight Club) and Judd Nelson (The Breakfast Club, New Jack City), "Cookin'" is a good time for me because not only is the subject matter humorous, Judd Nelson's performance is reminiscent of his character, Bender, from The Breakfast Club, albeit much darker. Fans of The Breakfast Club can watch this and see what would have happened to Bender as an adult if he continued down the road he was on. Good times.
Disc two is solid across the board, with every episode being a winner. "The New Arrival," "Showdown" and "Strung Along" are the standouts here, but all six episodes — seven through 12 — are pretty damn good.
"Showdown" is particularly good because it's not a typical "Crypt" episode. For the most part, "Crypt" episodes are colorful, upbeat, have a tongue-in-cheek script and a "the bad guy gets his" ending. Not so much, here. "Showdown," a Western-themed horror, is much darker than the "Crypt" norm. Missing are the tongue-in-cheek humor and the comic-book colors. Instead, it's a serious look at a gunslinger's life, and the lives he took. Richard Donner (Lethal Weapon) directs David Morse (The Green Mile) and Neil Giuntoli (Henry: Portrait of a Serial Killer, Part 2) in a very memorable episode.
Disc three contains the final two episodes, "Werewolf Concerto" and "Curiosity Killed." Of the two, "Werewolf Concerto" is the better because, while you think you see what's coming, you don't.
After a rough start, "Crypt"'s fourth season once again proves why it kicked so much ass back in the day.
Video and Audio:
Presented in its original 4:3 aspect ratio, "Crypt" has a lot of problems. A soft picture, muddy blacks and muted colors hurt the viewing experience — especially considering its comic book roots.
This picture is barely above VHS quality.
Where the video fails, the audio succeeds. The Dolby Digital 2.0 surround is crisp and clean from any distortion.
French and Spanish subtitles are available (for the episodes only).
Special Features:
Commentary on "What's Cookin'" by the Cryptkeeper (Voice by John Kassir), writer Alan Katz and series chronicler Digby Diehl
"Stars of Season 4" Montage Hosted by the Cryptkeeper
Fourteen episodes, 376 minutes and not one, but TWO special features.
Wow.
Does it get worse?
You betcha.
Because they both suck.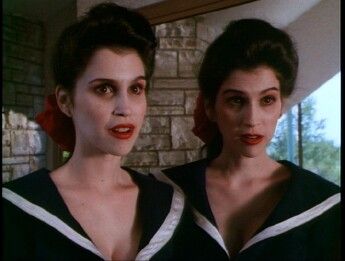 The commentary had the potential to be excellent, because both Alan Katz and Digby Diehl had something to say. But John Kassir, in character as the Cryptkeeper, managed to interrupt them with stupid-ass one-liners just about every time they offered something. I swear, from my perspective, it got to a point where Katz and Diehl were hesitant to speak, less they get cut off with something "punny." And, the worst part is, the stuff they did manage to get out was quite interesting, and it turns into a "what I could have heard."
The Cryptkeeper is okay introducing an episode, not taking part in the commentary of one. Maybe next season Kassir can introduce the commentary as the Cryptkeeper, then get the hell out of character and offer something insightful.
But, hey, you always have the "Stars of Season 4" montage that offers absolutely nothing, except taking about four minutes off your life. I recommend smoking a cigarette instead. It will take off just as much time, but is more enjoyable.
Grades:
Movie:
Video:
Audio:
Features:
Overall:
Conclusion:
The lack of special features is very disappointing, considering who worked both behind and in front of the lens in this series. However, the $39.99 MSRP, which usually means you can grab it for about 30 bucks, makes this one a good purchase for both "Crypt" fans and horror fans alike.
This page includes affiliate links where Horror DNA may receive a small commission at no extra cost to you.