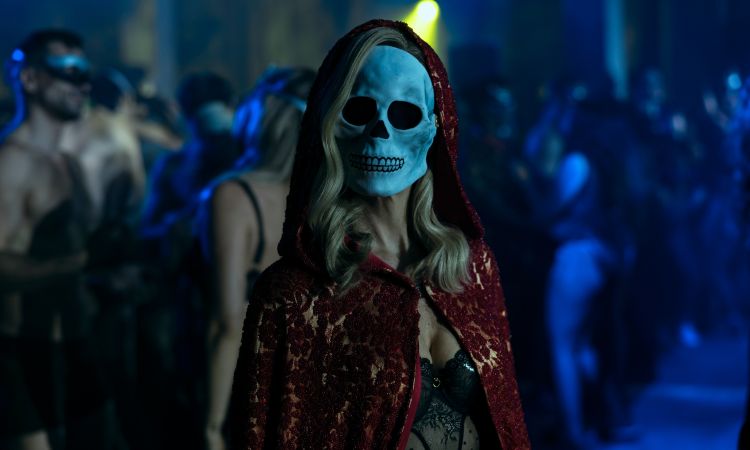 The Fall of the House of Usher TV Series Review
Written by Stuart D. Monroe
Premiered on Netflix
Directed by Mike Flanagan (Episodes 1, 2, 5, and 6) and Michael Fimognari (Episodes 3, 4, 7, and 8)
Written by Mike Flanagan (Episodes 1, 2, 3, 4, 6, 7, and 8), Emmy Grinwis (Episode 2), Justina Ireland (Episode 3), Mat Johnson (Episode 4), Dani Parker (Episode 5), Rebecca Klingel (Episode 6), James Flanagan (Episode 7), and Kiele Sanchez (Episode 8)
2023, Rated TV-MA
Premiered on Netflix on October 12th, 2023
Starring:
Bruce Greenwood as Roderick Usher
Mary McDonnell as Madeline Usher
Henry Thomas as Frederick Usher
Kate Siegel as Camille L'Espanaye
Rahul Kohli as Napoleon Usher
Samantha Sloyan as Tamerlane Usher
T'Nia Miller as Victorine LaFourcade
Sauriyan Sapkota as Prospero Usher
Kyliegh Curran as Lenore Usher
Crystal Balint as Morelle Usher
Mark Hamill as Arthur Gordon Pym
Ruth Codd as Juno Usher
Matt Biedel as William "Bill-T" Wilson
Zach Gilford as Young Roderick Usher
Willa Fitzgerald as Young Madeline Usher
Katie Parker as Annabel Lee
Michael Trucco as Rufus Wilmot Griswold
Carl Lumbly as C. Auguste Dupin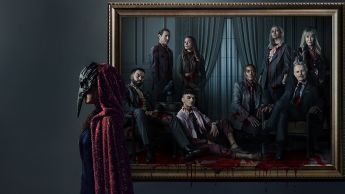 Review:
You don't have to be a literary nerd to know that in the world of horror and the supernatural, there are arguably no names larger and more revered than Edgar Allan Poe. Many of his tales form the foundation upon which modern horror hunkers and leers, and his themes of death, love, madness, and the human condition are timeless in a way that few other writers can claim. Simply put, he is the name of names when it comes to a good scare and depth of character.
So naturally, when I found out that modern master Mike Flanagan (Doctor Sleep, The Haunting of Hill House, Oculus) was making an eight-hour (!) series out of Poe's classic tale, The Fall of the House of Usher I was on it like flies on shit (as the old expression goes). And while I didn't quite see how to stretch that story into eight whole hours of television, I had the utmost faith in Mike Flanagan's ability to subvert your expectations of classic literature. I mean, have you seen what he did with The Haunting of Hill House and The Haunting of Bly Manor?!
As with his previous adaptations of Shirley Jackson and Henry James, Mike Flanagan has proved yet again that he sets the bar when it comes to literary adaptations.
Constructed in an anthological style complete with a pair of wraparounds (one following Roderick Usher and his children in 2023, one in the 1970s and early '80s), The Fall of the House of Usher is the story of pharmaceutical magnate Roderick Usher (Bruce Greenwood; Gerald's Game), his sister Madeline (Mary McDonnell; Donnie Darko), and Roderick's assorted children: whipping boy Frederick (Henry Thomas, E.T., Dead Birds ), hyper-driven Tamerlane (Samantha Sloyan; The Midnight Club), PR expert Camille (Kate Siegel; Hush), drug-addled video game developer Napoleon (Rahul Kohli; iZombie), medical genius Victorine (T'Nia Miller; The Haunting of Bly Manor), and party-savvy promoter Prospero (Sauriyan Sapkota; The Midnight Club). There's also Roderick's legal counsel/enforcer, Arthur Gordon Pym (Mark Hamill; Star Wars). They're the family behind the Fortunato Pharmaceuticals empire, a family in both the public and legal eye. Their good fortune, however, is rapidly running out, and the empire is crumbling.
As the series opens, all of Roderick's children are dead in a short period of time. He's suffering from vascular dementia, a debilitating and terminal illness that causes extreme hallucinations. A powerful DA named C. Auguste Dupin (Carl Lumbly; A Cure for Wellness), with whom Roderick has a long and complicated history, is hot on his heels as the opioid crisis grips America. After the mass funeral, Roderick invites Dupin to the decrepit remains of his childhood home to confess to everything he has ever done and explain what happened to all his children. And looming above it all is the mysterious woman known only as Verna (Carla Gugino; The Haunting of Hill House, Gerald's Game), who has been there at the scene of every Usher death and seems to be finally coming for Roderick and Madeline.
The Fall of the House of Usher is a structural masterwork that utilizes the anthological style to maximum effect. Each episode ties in some way to many of Poe's other works – The Masque of the Red Death, Murder in the Rue Morgue, The Black Cat, The Cask of Amontillado and so many more – and is highlighted by some of the most horrific and inventive death scenes ever put on television. The jump scares spread throughout the wraparound tales (i.e., Roderick's hallucinations) are not the hokey, predictable kind. Instead, they are pure nightmare fuel that arrives with zero warning, jarring and almost always catching you wildly off guard. There's plenty of gore and makeup SFX, but The Fall of the House of Usher is no splatter show. Rather, it's equal parts gothic, grisly, and achingly human. All the Usher children are despicable in their own way…except for Roderick's saintly granddaughter, Lenore (Kyliegh Curran; Doctor Sleep)…but they are humanized enough here to help you sympathize with them at least a little bit. In many ways, they are all victims of Roderick and Madeline's ambition and authority, trapped by the Usher fortune and opulence.
The ensemble cast is first-rate all the way around, but special praise must be given to Carla Gugino, Bruce Greenwood, Mark Hamill, and Kyliegh Curran. They make this sucker hum in their own ways, with Hamill's character, Arthur Gordon Pym (a name Poe lovers will be intimately familiar with), being my favorite. There are truly no bad parts, though; everyone is cast perfectly and fully inhabits the various personalities of the ill-fated Usher family and their respective brand of hedonism.
Throughout it all, there's Flanagan's trademark sense of sly humor and layering of social relevance. The Fall of the House of Usher has quite a bit to say about America's opioid crisis, the fabled one percent and their unchecked debauchery, and the treatment of women. Madeline's monologue near the end of the series is harsh but legit, as heavy-handed as anything Poe ever did (and that's saying something).
Edgar Allan Poe aficionados like myself will have a grand old time with all the Easter eggs, name drops, background clues, and (of course) the overtly in-your-face stuff as well. The Fall of the House of Usher is a love letter to the horror master, written with a sense of glee and immense respect for the source material. Modernizing the tale of the Ushers gives it a unique flavor that only Mike Flanagan and company could pull off. Had this take on the Usher tale been a true period piece, I don't think it would have had anywhere near the same punch.
Now, dust off those classic tales and get ready to play Easter egg hunter as you dive into an amalgamated world of Poe goodness. Well, maybe goodness isn't the right word after all…
This page includes affiliate links where Horror DNA may receive a small commission at no extra cost to you.