The Haunting of Bly Manor TV Season Review
Written by Stuart D. Monroe
Premiered on Netflix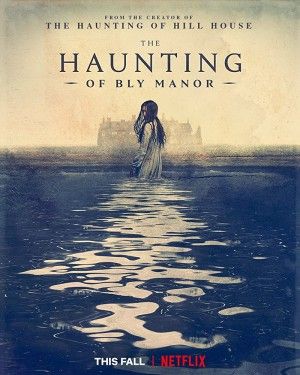 Directed by Mike Flanagan (Episode 1), Ciarán Foy (Episode 2 and 3), Liam Gavin (Episode 4 and 5), Ben Howling and Yolanda Ramke (Episode 6 and 7), Axelle Carolyn (Episode 8), and E.L. Katz (Episode 9)
Written by Mike Flanagan (screenplay) and Henry James (stories)
2020, 50 minutes per episode, Not Rated
Premiered on Netflix on October 9th, 2020
Starring:
Henry Thomas as Lord Henry Wingrave
Victoria Pedretti as Danielle "Dani" Clayton
Amelia Bea Smith as Flora
Benjamin Evan Ainsworth as Miles
Tahirah Sharif as Miss Rebecca Jessel
Oliver Jackson-Cohen as Peter Quint
T'Nia Miller as Hannah Grose
Rahul Kohli as Owen
Amelia Eve as Jamie
Kate Siegel as Viola
Review:
It's no secret (if you've read my list from the year-end of 2018) that I unabashedly loved The Haunting of Hill House. I was skeptical about another adaptation of that classic tale, but Mike Flanagan and company turned my doubt into deliverance with a series that is the epitome of heart, genuinely unsettling scares, and atmosphere that I've yet to see topped in a series format.
So, along comes the second season of Mike Flanagan's venture into classic literature. This time, it's legendary author Henry James and his tale, The Turn of the Screw. Well, not exactly. Much like The Haunting of Hill House, this isn't a straight adaptation. Other stories are touched upon (and more) in the course of these nine episodes, including The Jolly Corner and The Romance of Certain Old Clothes. I'm not a scholar of Henry James, to be honest, but I'll be perusing his catalogue much more deeply after this experience.
The series opens with an unnamed narrator regaling a group of people with the tale of events that befell a young governess at the English estate of Bly Manor. Danielle "Dani" Clayton (Victoria Pedretti; The Haunting of Hill House) is a fourth-grade teacher looking for a fresh start…and an escape from the trauma of her past. She answers the summons of Lord Henry Wingrave (Henry Thomas; Psycho IV: The Beginning, The Haunting of Hill House) to care for two precocious children, Flora (Amelia Bea Smith) and Miles (Benjamin Evan Ainsworth). The kids lost both of their parents in a tragic accident abroad. They are now cared for by the housekeeper, Hannah Grose (T'Nia Miller; Doctor Who), along with the gardener, Jamie (Amelia Eve; Enterprice), and the cook, Owen (Rahul Kohli; Supergirl). From the moment she arrives at Bly Manor, Dani knows that things are not what they seem – secrets bubble below the surface, there's apparently a "Lady in the Lake", the previous governess died a strange death, and just who is that guy that keeps showing up outside the windows? Also, there are faceless dead wandering about, and that may not be the worst of it…
Simply put, The Haunting of Bly Manor is a Gothic treat to be savored in all its classic glory. It's also not the intensely scary beast that its predecessor is, but that doesn't mean it isn't true horror or that it's soft. It's just a different animal. The Haunting of Hill House is an in-your-face, shocking, emotionally powerful family drama that happens to involve the most haunted house this side of Hell. With The Haunting of Bly Manor, Mike Flanagan tells us a love story so powerful that it's scary in and of itself. The name is almost misleading, as it's not about a haunted place that ruins lives this time; instead, it's about haunted people and the power of both their love and their belief to change the environment around them.
The format from the first season is firmly in place here: returning actors, a series of episodes that each focus on a different character and how they affect the story, creepy children, a gorgeously sinister location, and tons of secrets to be revealed. There are a ton of social issues to be tackled here if that's how you like to deconstruct your horror. In particular, there's a moment when Hannah is telling a story around the bonfire and muses, "I don't know why smart, beautiful women are always punished for it." It's a moment that carries significant weight and rings painfully true.
The Haunting of Bly Manor, however, is a MUCH slower burn than Hill House. That's not a bad thing, folks, but if you are expecting the jolting scares of that impossibly tall bastard with the big hat or the world's best jump scare (remember that one in the car? DEAR GOD!), you'll be disappointed a bit. This is a love story in every aspect, but that's what makes it so great. There are relationships all over the place at Bly Manor, and some of them go through generations. It's deeply Gothic and very English in its sensibility and presentation. All of that isn't to say that it's soft. There are some fantastic scares to be had at Bly Manor, and you even get all that juicy backstory to help you understand why it's a place that you really wouldn't want to be caught dead in.
Mike Flanagan flat-out writes and produces the hell out of this thing. He only directs one episode, but his writing and overseeing of the other directors make it feel as if it's only him from a continuity standpoint. The scares and the reveals are laid out in a considerate way. It's unbelievably smooth and fluid, a task that is notoriously difficult without the right boss in charge. Mike Flanagan has become "the man" in horror these last few years, and The Haunting of Bly Manor is another stellar entry in his body of work.
As technically solid as all that is, it's the cast that make this one shine. The "American Horror Story" model of using the same actors over again works to full advantage here. When the same cast comes back to play different parts in a different story, you automatically typecast them a certain way. Flanagan knows that and subverts it wonderfully. I can't tell you more than that because I'm contractually obliged to avoid spoilers. There are many, many spoilers…it's a minefield out here. Amelia Bea Smith and Benjamin Evan Ainsworth are too young to be that good. When young Miles goes dark, you almost feel like you shouldn't be watching it (even with the general level of restraint shown). Also, I need T'Nia Miller and Oliver Jackson-Cohen to be in everything from now on.
The series really gets going in Episode 5. Along with Episode 8, it's the highlight of the show and will leave you dumbstruck. That turning point…damn it! There are those spoilers again. I can't say what I want to because you need to be caught off guard. What isn't a spoiler is to tell you that it's perfectly splendid. Through all the time-jumps and being tucked away in a memory stuff (which can be vexing for the impatient), just remember to watch with your eyes but listen with your heart. This is powerful magic that's central to the story.
Suffice to say, The Haunting of Bly Manor is a first-rate Gothic romance, a sweeping ghostly love story that uses frankly brilliant writing from both the master, Henry James, and Mike Flanagan to wrap you in a nightmare that your heart will understand. After all, what is the difference between a love story and a ghost story?
Ponder that. We can talk after you're done watching.
This page includes affiliate links where Horror DNA may receive a small commission at no extra cost to you.