The Killing Season: Season 1 TV Series Review
Written by Steve Pattee
Premiered on A&E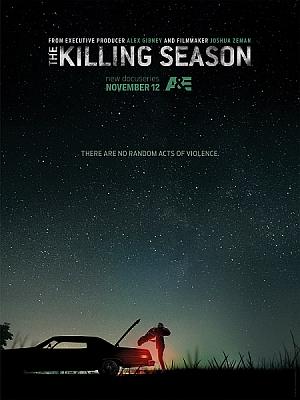 2016, Not Rated
Series premiered on November 12th, 2016
Starring:
Joshua Zeman as himself
Rachel Mills as herself
Review:
In general, there are two types of ways documentaries are presented: one way does it virtually without a host, and is edited in such a way that you draw your own conclusions, like the Paradise Lost series by filmmakers Joe Berlinger and Bruce Sinofsky. On the flipside, you have the style of filmmakers like Nick Broomfield (Aileen Wuornos: The Selling of a Serial Killer, Tales of the Grim Sleeper), who put themselves so much into their film, they actually become part of it. Of these two, I'm a fan of the former. I like coming to my own conclusions. I will concede however that there's something to be said for a filmmaker to put themselves so far out there that they become part of the story. And that's what documentarians Joshua Zeman and Rachel Mills do in the new A&E series, The Killing Season.
My introduction to Zeman was with Cropsey, his documentary based on an urban legend in NY. This was followed up with Killer Legends (of which Mills was a researcher on), a film that explores what inspired even more urban legends. I enjoyed both of these even with my reservations about a documentarian sharing almost as much time as with their subject. But I have to give credit where it's due; Zeman has a nose for a good story. It's because of this, when I saw the promo for The Killing Season, I knew I was going to love it.
In the beginning, this six-part mini-series/documentary focuses on the Long Island Serial Killer (LISK) murders, where 10 sets of remains have been found in Long Island, NY. Zeman and Mills' purpose of making this doesn't just appear to be telling the story of the victims, but actually solving the crime with their own investigative skills and the help of Websleuths.com, an online community of people dedicated to solving unsolved mysteries. A noble effort indeed, but it isn't long before you find out the duo are in over their heads, especially when they discover there may be another serial killer at play not far from where LISK has called home. And as they peel back more and more layers, they end up travelling all over the East Coast, from New York to New Jersey to Florida, interviewing who they can, from family of victims to potential suspects and everyone in between.
At the risk of sounding clichéd, The Killing Season is terrifying because it's real-life horror. The map of bodies on display is both stomach turning and heartbreaking, especially when the brothers, sisters, mothers, fathers, and friends remember their loved ones. Even scarier is when the sister of one of the victims describes the chilling phone calls she received from the potential killer of her sibling.
The Killing Season emotionally pulls you in many different directions; for as many times as you are uncomfortable with the maps pinpointing the location where dead women were found, there are equal amounts of time you are just saddened by the lack of empathy these women and their families received from local authorities. After all, the majority of them were prostitutes, so they're not really people, right? Fortunately for us, the filmmakers put names, faces, and histories to these women, showing that they were far more than just street walkers.
I have to hand it to Zeman and Mills for their dedication to the story. While I admitted that I'm generally not a fan of this style, these two aren't afraid to get their hands dirty, both figuratively and literally. They cut through the marshes to see where bodies were found and get into the vehicles of suspects with no recorder and no camera. Neither of these things I'd be rushing to do.
As fantastic as this series is, one thing really bothers me: the filmmakers name suspects of various killings, going so far as to trying to get interviews with them, then covering their tracks at times by reminding the viewer that the person was never charged with anything. This is problematic and dangerous because the editing is done in such a way that you naturally think the person is guilty of the crime. I don't like this because it's reminiscent of Richard Jewell. You should look him up, but the long story short is he was a hero who saved many lives in the 1996 Summer Olympics by discovering a bomb, but the press labeled him a monster because they assumed he had placed it there himself for attention. They were wrong, of course. This is irresponsible reporting at best. Jeff Tolbert said it much better than me in his review of Southwest of Salem. While that film was directing the accusation to someone else, his statement certainly applies here. He says, "This is all compelling, but there is still something unsettling about using a documentary film to level such a terrible accusation against a person. The audience has no choice but to accept what is presented on screen, and with that power comes, of course, tremendous responsibility." He's right.
The Killing Season tends to be melodramatic at times due to Zeman, Mills, and the rest of their team unnecessarily playing it up for the cameras. The topic is heavy enough without forced drama. However, there are also times where it gets naturally tense, such as the scene where they are driving a prostitute around to her johns and they lose contact with her for a time. Or when they jump into the truck of a man whose wife accused him of killing women. With situations like those, you don't need false or contrived drama. It will naturally come along on its own and the documentary will be better off for it.
Problems aside, I like this series a lot. So much so, I've watched it twice (all six episodes) and I'm already eagerly hoping for a second season. Zehan is consistent with his ability to find an interesting story, and he and Mills play off each other well. If you haven't already, set your DVR for The Killing Season and prepare to go on a journey that will haunt you for a long time to come.
This page includes affiliate links where Horror DNA may receive a small commission at no extra cost to you.