Tru Calling: The Complete Second SeasonDVD Review
Written by Steve Pattee
DVD released by 20th Century Fox
Various writers and directors
2005, Region 1 (NTSC), 264 minutes, Not rated
DVD released on November 15th, 2005
Starring:
Eliza Dushku as Tru Davies
Shawn Reaves as Harrison Davies
Zach Galifianakis as Davis
Jason Priestley as Jack Harper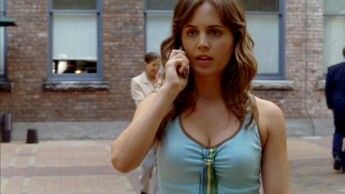 Show:
Tru Davies (Eliza Dushku – Wrong Turn, "Buffy the Vampire Slayer") has a gift. She can relive days to help save lives. However, she cannot pick and choose which days she can relive, nor the lives she can save. Instead, the dead choose her (which usually consists of the dead grabbing her arm and saying "Help me"). Conveniently, she works at the city morgue, and there's no shortage of dead bodies there.
Now that alone would make a good series, especially with the attractive Dushku as the lead, but there's a wrench in the system — and that wrench is Jack Harper (Jason Priestley – Darkness Falling, "Beverly Hills 90210").
While Tru is reliving days trying to save lives, Jack is reliving those same days trying to make sure fate runs its course, and he does what he can to thwart Tru at every step.
And, to make matters worse, Jack is working with Tru's father. Something Tru is unaware of.
That certainly could liven things up.
Review:
Having never seen an episode of "Tru Calling", I had no idea what to expect when I popped the first disc of this two-disc set into the player. I certainly never expected to watch both discs, all six episodes, in one sitting. But I did.
"Calling" is a smart TV show. Make that "was" a smart TV show, as it was canceled — prematurely, I think. Certainly the idea of reliving a day to help people is not a novel concept — both "Quantum Leap" and "Early Edition" did it to some degree or another. But even if the idea isn't new, the show's second season was still great.
Because the writing rocked.
Zach Galifianakis does a wonderful job as Davis, Tru's boss and confidant, but his character is the typical sidekick. He's shy and clumsy around women, but always comes through for Tru, no matter what. His character is incredibly likeable, but also clichéd, and when the hottie grief counselor, Carrie (Liz Vassey – Man of the House, "The Tick"), seems to show an interest in him, you can only role your eyes. Carrie is smoking hot. Davis is bookish. It just doesn't happen in real life. But, because of the writing, it suddenly becomes very believable, and you don't doubt their relationship for a second.
Dushku, who was great as the bad girl, Faith, in "Buffy the Vampire Slayer," really tones it down in "Calling". At first, it was distracting — typecasting will do that — but she really pulls it off as the young woman who is coming apart at the seams trying to juggle school, work, a budding relationship and an arch-enemy.
But the scene stealer of the season — and this surprised even me — was Jason Priestley. When he first showed up, I thought "Oh, hey, there's Brandon. Glad to see he's still working. This must be a cameo." But no, he's a regular character. And he's a prick. And damn good at it. The interesting thing about Jack, Priestley's character, is that while he is doing the complete opposite of Tru (trying to let people die, instead of trying to save them), his reasoning is sound. Jack feels Tru is the one messing up the greater good by meddling with fate.
There are no standout episodes in the season. Let's face it, there are only six episodes on this two-disc set (the final episode having never aired), and I watched them straight through. If there were more than six, there is no doubt I would have watched more.
It's the dynamic between Tru and Jack that really makes this season, and the added mystery of why Jack is working with Tru's father makes the season that much more watchable. It's a damn shame the show ended so abruptly, leaving more questions than answers.
"Tru Calling" is one of those shows I am kicking myself because I never watched. Maybe it would have made a difference.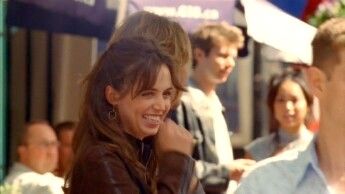 Video and Audio:
Calling's 1.78:1 anamorphic presentation looks good, with no visible blemishes. The blacks are deep and the colors look great, with no noticeable bleeding. A great-looking picture all around.
The Dolby 2.0 soundtrack is adequate. Voices are always crisp and clear and ambient noises are appropriately used in the sides. In addition, the theme song, "Somebody Save Me" by Full Blown Rose is quite catchy. I'll definitely be picking up their CD.
English, French and Spanish subtitles are available.
Special Features:
Sadly, little is offered in the way of special features, except for the six-minute fluff piece, "Tru Calling: Opposing Forces." It's just a mish-mash of brief interviews with the main players — Dushku, Priestley, Galifianakis and Shawn Reaves (who plays Harrison, Tru's brother) — along with clips from season two. You won't be missing anything important if you skip this feature, but you might as well watch it, since it's the only one available.
Grades:

Movie:
Video:
Audio:
Features:
Overall:
Conclusion:
If you have the first season of True Calling, this purchase should be a no-brainer. If you don't, you should at the very least rent the first season, the immediately check out the second. Me? I'm on my way out to buy the first set.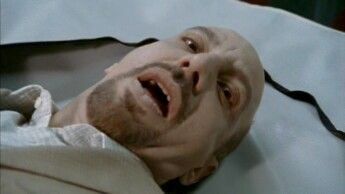 This page includes affiliate links where Horror DNA may receive a small commission at no extra cost to you.