True Terror with Robert Englund - Season 1, Episode 6: "Bad Omens" TV Episode Review
Written by Stuart D. Monroe
Premiered on Travel Channel
Directed by Kevin R. Hershberger
Written by Ron Nelson and Patrick Rogers
2020, 43 minutes, Not Rated
Premiered on Travel Channel on April 22nd, 2020
Starring:
Scott Wichmann as Taylor
Nicole Zavska as Rose
Shawn Hambright as Silas
Lisa Edmunson as Julia Cook
Shaun Irving as The Man
Maggie Lovitt as Emily Brown
John Mayo as John Blymer
Joel King as Nelson Rehmeyer
Geofferey Oliver as Wilbert Hess
Kaleb Edney as John Curry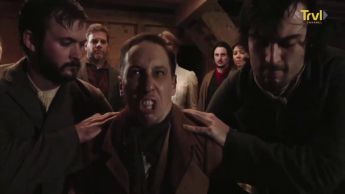 Review:
It's fitting that the premiere season of True Terror with Robert Englund closes out with an episode all about omens, premonitions, and what the future holds. After all, a new show isn't guaranteed a continued life any more than we working stiffs are (even if it has a killer host and a proven format). Luckily, this one has proven to have some actual meat and potatoes in its stew of horror and grue that bode well for its future.
The first segment is entitled "Blood Samaritans", and it begins in Kent, Pennsylvania, in 1889. Taylor Jones (Scott Wichmann; Lincoln) is a carpenter who lost his wife and both of his daughters to tuberculosis in a two-year span. He's barely hanging on to himself, and he moves across the country to Kansas City for a fresh start. There he meets (and falls head over heels for) Rose (Nicole Zavska; Dark of Day), a beautiful young woman with a tragic past of her own. They hit it off, and he begins accompanying her to her charismatic Uncle Silas' (Shawn Hambright) church. He's unnerved by The Good Samaritans and their blood obsession, but Rose is everything he needs. Taylor goes along under Silas' wing until the horrible truth is revealed, and he realizes, far too late, that it's a deadly idea to ignore the signs you were given. It's a strong and succinctly acted segment that doesn't shy away from the ugly truth about our religious obsession as well as the blindness of love.
Segment number two, "Your Turn Next", takes us to Philadelphia in 1893. It's the story of an unmarried legal clerk named Julia Cook (Lisa Edmunson), whose sleep is eroding (along with her grip on reality) under the onslaught of recurrent, prophetic nightmares. In her dream, the same man (Shaun Irving; Killing Kennedy) appears in a variety of settings and scenarios with the same admonition each time: "Your turn next!" It's terrifying for Julia, and she's jumping at shadows. After she attempts a bout of lucid dreaming straight out of A Nightmare on Elm Street 3: Dream Warriors, she determines that the man in the dream is in deep trouble as well. Once she meets him, she has a decision to make – heed the warning or step inside the nightmare? This one is a lot of predictable fun with its echoes of Final Destination, and Robert Englund seemed to be giving a little more than usual. It's funny…every time dreams are part of the story, he gets a little giddy. No complaints here.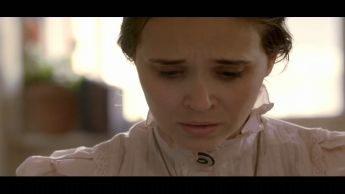 The third and final tale of this season is "Hex Murders". In York County, Pennsylvania, in 1928, John Blymer (John Mayo; The Lineup) believes he is cursed. Every part of his life is crumbling. He's being pursued in his dreams by a shadowy figure whose face he can't see. Befitting of the local culture's beliefs, John believes he's been hexed by a witch. Naturally, he goes to another witch to find out who is doing it and how to stop it. He's led to believe it's a man named Nelson Rehmeyer (Joel King; Rogue Cell), who many fear. He recruits two young men to help him steal Rehmeyer's spell book and a lock of hair to bury it and kill the curse, only the curse isn't what ends up dead in an out of control act of power. Serious doubt is left as to who the real monster is. It's a solid finish with some genuine shock value that would've made headlines in any era.
Ultimately, True Terror with Robert Englund is an entertaining and educational way to pass an hour of TV time that will stick in the mind long after the show is over. If you're like me, it'll also have you on your computer doing further research into the dark corners of America. Many of the stories have a relevance even today, and there's true entertainment value. The amount of dramatic license could be curtailed some on occasion, but that's no major problem. This is the horror version of Unsolved Mysteries.
The format is a proven winner with an average host. With a host who brings as much charisma, intelligence, presence, and stateliness as Robert Englund does, True Terror should be a winner for Travel Channel. After all, there's no shortage of horror stories still to be told in the colorful (and often blood-soaked) pages of America's history.
This page includes affiliate links where Horror DNA may receive a small commission at no extra cost to you.