True Terror with Robert Englund - Season 1, Episode 2: "Fear of the Unknown" TV Episode Review
Written by Stuart D. Monroe
Premiered on Travel Channel
Directed by Kevin R. Hershberger
Written by Ron Nelson and Patrick Rogers
2020, 43 minutes, Rated TV-14
Premiered on Travel Channel on March 25th, 2020
Starring:
Robert Englund as Himself/Host
Will Roberts as Sam Dawson
Larry Poole as Zeke Bates
Andrew Bryce as Theodore Roosevelt
Alex Brewer as Bigfoot
Coby Batty as Bauman
Korey Hershberger as Jasper Jones
Zach Ball as David Musser
Hunter Foretich as Nathan Walsh
Jessica Tressler as Jane Parker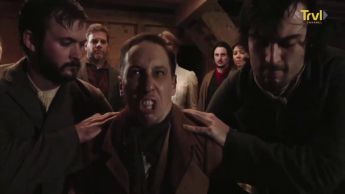 Review:
"The oldest and strongest emotion of mankind is fear, and the oldest and strongest kind of fear is fear of the unknown." -H.P. Lovecraft
Kicking off an episode with a quote from Howard Phillips Lovecraft is never a bad thing. Hearing that famous sentiment come from the lips of Robert Englund is even cooler and more ominous. It lets you know you're in for a monster party, something full of the kind of unexplainable things that mankind rarely ever glimpses (and should be glad for it). The theme of "Fear of the Unknown" is mysterious creatures of both cryptozoological and unholy origin, and it even comes with an added bonus – the account of a monster encounter from a former U.S. President, Theodore Roosevelt!
The first segment, "Cowboys and Dragons", takes place in Tombstone, Arizona, in 1890. Two cowboys, Zeke Bates (Larry Poole; Alpha Wolf) and Sam Dawson (Will Roberts; Lucifer), are returning from a long cattle drive and encounter a flying menace that's a cross between a steroidal alligator and a dragon. After shooting at it and pissing it off, the creature takes their horses and eventually one of the men. Told from the survivor's perspective to the local news, it's a story with physical proof and a reminder that nature is strange and deadly. The VFX on the creature are fantastically cheesy in a Syfy Channel way that's just fun. With gorgeous location cinematography and spot-on costume work, it sets the table for a weird tale that old H.P. would appreciate.
The second segment, "Not Teddy's Bear", is the story of President Theodore Roosevelt's (Andrew Bryce) encounter with a Bigfoot in Montana in 1883. While hunting big game in the untamed American West, the future President of the United States is menaced during the night by an unseen creature. His guide, Bauman (Coby Batty), tells Roosevelt and the other men the story of his near-fatal encounter with the legendary monster forty years earlier. Not only are the action sequences and SFX on this above the norm, but it's also got a famous backstory, having been chronicled in Roosevelt's own book, The Wilderness Hunter (published in 1889). This is the best of the bunch by far; it's well-presented and is one America's most famous cryptozoological encounters. I was really hoping that this story would make it into this show, as I recall hearing about it in sixth grade history class and being slightly enamored with the idea of a President who'd encountered Bigfoot. How American is that?!
The third segment, "Demons in the Woods", takes us back to Big Beaver Township, Pennsylvania in 1881. Nathan Walsh (Hunter Foretich; Unmasked) and Jane Parker (Jessica Tressler; First Lady) are walking home in the dark woods after a church social when they are chased by an unseen demonic presence with glowing red eyes. They're besieged in Jane's home and scare the creature away. As the area is gripped with fear, a hunting party gets together to hunt it down. What they find is not what they expected. With its ambiguous ending and hokey action, it's a bland story that is easily the weakest of the bunch, well-acted or no.
As always, Robert Englund is the consummate purveyor of fear and intrigue. His deadly voice pipes in at just the right time, and he seems to be finding a bit more of that black sense of humor that we all love so much. His introductions are getting a bit more theatrical as well, with long stares into the camera as his ghost of a grin grows to a near leering rictus. It's great fun to watch even if there is one segment that is something of a stinker. True Terror with Robert Englund is shaping up, in the early stages, to be a show that could have some serious legs. You don't even have to be a "horror nut" to appreciate it.
This page includes affiliate links where Horror DNA may receive a small commission at no extra cost to you.