True Terror with Robert Englund - Season 1, Episode 5: "Spirits in the Air" TV Episode Review
Written by Stuart D. Monroe
Premiered on Travel Channel

Directed by Kevin R. Hershberger
Written by Ron Nelson and Patrick Rogers
2020, 43 minutes, Not Rated
Premiered on Travel Channel on April 15th, 2020
Starring:
Robert Englund as Himself/Host
John Witt as Edward McGovern (old)
Chris Austin as Edward McGovern (young)
Justin Sisk as Ira Grant
Chris Raines as Carl Logies
Jay Massengaie as Harry Lipenstick
Chris Korkalo as Charles Berry
Janae Palmer as Ann Berry
Tom Fields as Elijah Berry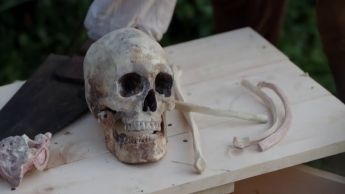 Review:
Perhaps no manner of fright is more widely speculated upon and written about than the restless spirits of the dead. Ghosts are part of every culture in every corner of the world throughout human history. Hell, I have my own ghost story from childhood (though I'll have to share that some other time). The point is, ghosts are the vanilla ice cream of the horror world, so you have to come correct if you're going to drub up the scares there. Episode 5, "Sprits in the Air", is a mixed bag in that regard.
The opening segment is entitled "Grave Responsibility", and it's the best of the bunch by a mile. It's the story of the infamous Mt. Prospect Cemetery scandal from Denver, Colorado, that occurred near the close of the nineteenth century. Undertaker Edward "E.P" McGovern (Chris Austin) was awarded the contract to do the grisly work of removing all the bodies and relocating them. The majority of the cemetery was occupied by immigrants and the vagrants of society, so many of the bodies were never claimed. McGovern concocted a nefarious scheme to use baby coffins to hold the broken and dismembered bones of the disrespected dead, as he was paid one dollar and ninety cents per coffin. He tripled his profits on the deal and supposedly looted the bodies as well. After a long process that went incomplete, the city of Denver built Cheesman Park on top of the remaining bodies. It's said to be haunted to this day, and Edward "E.P." McGovern (John Witt; Batman: Requiem for a Bat) died a haunted man himself. The segment tells the true story of one of our country's ugliest funereal scandals, and that's saying something – we have our fair share of those.
The second segment, "Dead and Well", takes you back to Painesville, Ohio, in 1922. Carl Logies (Chris Raines) is a farmer who's struggling to turn a profit on his seemingly cursed land (just like many before him). His livestock is dying, and his crops don't grow. It's baffling, but that's not the worst part – Carl is also seeing a ghost on his property at exactly 9:35pm every night that walks towards the well and disappears. After weeks of questioning his sanity, Carl decides to dig out the well. I think you can guess where this is going. It's a tried and true story that, while rooted in a true account, feels all too familiar.
The final segment is "Ghost in the Mirror", and it takes place in Massachusetts in 1889. Charles Berry (Chris Korkalo) and his family are struggling until they inherit the home of his grandfather, Elijah Berry (Tom Fields). They were supposed to receive fifteen thousand dollars as well, but it's nowhere to be found. Grandad's ghost is, however, and he's leading them towards a discovery and a twist that they could never have guessed. The segment is eerily reminiscent of the "Unexplained" segments you'd see on Unsolved Mysteries in presentation, but the music and Englund's sinister voiceover give it a Goosebumps flair (an odd mix).
While "Grave Responsibility" is a real winner, this episode takes a ton of creative license that comes off as more than a little on the cheesy side. It's still great fun and Robert Englund is doing his thing, but it's the least of all the episodes. I do love a good graveyard scandal, though, so it's not a total loss by any stretch of the imagination.
This page includes affiliate links where Horror DNA may receive a small commission at no extra cost to you.