Killer Sofa Movie Review
Written by Stuart D. Monroe
Released by High Octane Pictures
Written and directed by Bernie Rao
2019, 81 minutes, Not Rated
Released on October 1st, 2019
Starring:
Piimio Mei as Francesca
Nathalie Morris as Maxi
Jed Brophy as Inspector Bob Gravy
Stacey King as Inspector Rosane Grape
Jim Baltaxe as Rabbi Jack
Review:
I'll start this review with a confession: I'm stumped. That's one hell of a place for a lifelong horror nerd and connoisseur of cheese to find himself. I thought I had seen it all; I really did. To make matters even more amusing, I must remind myself that I took this assignment. Remember that old adage about biting off more than you can chew? Yeah, I'm choking on a great, big pile of "What the fuck did I just watch?!" over here, and it's all thanks to writer/director Bernie Rao's debut feature, Killer Sofa.
I'll attempt a quick synopsis: the lovely Francesca (Piimio Mei) is a dancer and frequent object of the obsessions of, well, everyone. Along with her dedicated best friend, Maxi (Nathalie Morris), she takes possession of an anonymously sent (and mildly bloodstained) recliner found in a storage unit full of voodoo totems. She's also questioned by the intrepid Inspectors Bob Gravy (Jed Brophy; Nori from The Hobbit series) and Rosane Grape (Stacey King) in the murder of one of her admirers, a man deeply into the occult. The recliner (which looks quite a bit like a long-lost cousin of Chairy from Pee-Wee's Playhouse) is possessed by a Dybbuk, an evil Jewish spirit that possesses people (and apparently furniture) in order to accomplish a goal of some kind.
There's no further need for a plot breakdown.
It's clichéd to say a movie defies standard critique, but I'll be damned if there's any point in going through the nuts and bolts of film criticism – the plot is a mess, the acting borders on atrocious, the expositionary devices are hackneyed, et cetera. At the risk of sounding generic with my phrasing, it's simply not a good movie in the traditional sense. For fuck's sake, the name of the movie is Killer SOFA and it's not even a sofa!
But, but…
Killer Sofa is a dump truck full of Kiwi-flavored fun driven with so much heart that it brings a tear to the eye of any true indie horror fan. You're reminded so eerily of early Peter Jackson that you just may find yourself grinning from ear to ear in spite of the occasional cringe. It's not as splattery as Bad Taste, Dead Alive, or Meet the Feebles, but not many films are. The spirit is pure New Zealand madness, a film that takes itself just seriously enough in its performances to keep from veering into "trash cinema" territory. There's a nobility that frankly couldn't be achieved in an American production. Killer Sofa isn't a "grab your buddies and a case of beer" kind of movie. It's the kind of movie you sit and appreciate with your jaw on the floor.
My wife looked up once during the movie and said, "Nope!", then buried her face back in her phone! It was at this moment that I started to get obscenely happy.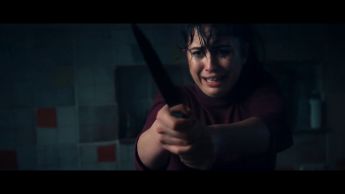 Contained inside 2019's most wonderfully polished turd are such slices of awesome as a red-tinged masturbation scene in the titular chair where Francesca gets off by repeatedly flicking the chair's button (get it?!); deadpan delivery of cops named Gravy and Grape; a chair that stands cutely up in bipedal fashion to menace its victims; a mom accidentally vacuuming up her son's remains; a man having sex with a bra and a hat in the shape of a face under a blanket; and some truly horrendous 1800s-era flashbacks. There's a shot of the chair peeking around the corner into a room that absolutely must become a meme; it's that fantastic!
Then there's the climax. I'm fond of the phrase "hot mess", but that doesn't touch the finale of Killer Sofa. Equal parts ballsy and puzzling, the close will have you in stitches. Watching Francesca try to force that big-ass recliner into a tiny Dybbuk box that looks like it was made by a 5th grader in Wood Shop is sublime. It's matched only by seeing a recliner with a face continuously blowing out the matches that are being lit to ensure his destruction.
You can't make this shit up.
It's mildly disappointing that the chair never looks anywhere near as menacing as that first-rate cover art. I can't help but wonder, too, what could've been done with just a little more money on the production side, but in the end it's all for the best. When you capture lightning in a bottle, you simply sit back and thank the Film Gods that you've been gifted with something so singular and bizarre.
Bernie Rao has a long list of short films to his credit, but nothing well known. I sincerely hope this is a breakthrough for him. There are a cubic fuckton of filmmakers out there playing it safe and formulaic. Bernie Rao is absolutely not one of them.
This page includes affiliate links where Horror DNA may receive a small commission at no extra cost to you.